Action part of nationwide demonstrations against Obama drone policy
SACRAMENTO – A replica U.S. killer drone will do a "fly-over" at a "Tax Day" rally here Monday, April 15 from 8:45 a.m. to 11 a.m. at the U.S. Courthouse (5th & I Streets). It's part of a nationwide, month-long series of protests against President Obama's drone program.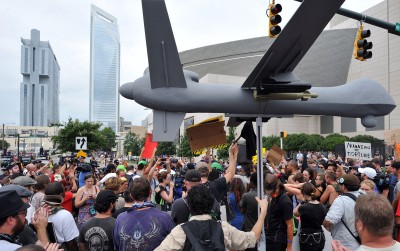 Northern California anti-drone, and anti-war activists – including some facing federal jail for protesting U.S. killer drones – will hold the "Tax Day" rally as part of the actions against the use of the unmanned aircraft responsible for killing innocent civilians, including children, around the world.
The drone is 1/5 the size of a real killer drone, and the wingspan is still about 11 feet.
Military bases, universities and companies are targeted in dozens of "April Days" protests aimed at exposing the killing, and recent series of controversies around the program.
The big Sacramento protest will feature defendants in an upcoming trial, which will put the U.S. drone program on trial. The activists were arrested last October protesting drones at Beale Air Force Base. A Sacramento pro-bono attorney team is representing them against the federal charges.
In addition to Sacramento, other cities include Boston, New York City, Philadelphia, Baltimore, Washington, DC, Atlanta, Dayton, Ft. Wayne, Chicago, Milwaukee, Minneapolis, Des Moines, Seattle, Tucson, San Francisco, San Diego, Honolulu, as well as in dozens of other locations, including many of the communities where about 100 drone bases exist.