"3 Still Standing" — new film documents the staying power of three determined comedians
The husband-and-wife team of Robert Campos and Donna LoCicero have nearly completed "3 Still Standing," a documentary that highlights the careers of three comedians who started their careers in San Francisco and have survived in a challenging profession by continually reinventing themselves: Johnny Steele, Larry "Bubbles" Brown and Will Durst.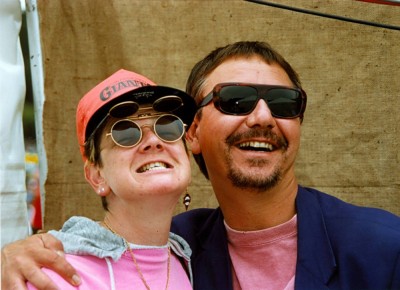 "In the 1980s, San Francisco's audiences and media supported innovative, original comedy," says Campos.
"Comics here were taking chances and were like verbal jazz artists," Will Durst says in the film. "San Francisco has always treated stand-up comedy as an art form."
But things changed. "By the mid-1990s, a number of forces — comedy cable channels, an over-saturated market and a corporate takeover of clubs — squeezed the juice out of the city's comedy scene," said Campos.
"In the face of what Robin Williams calls a 'comedic recession,' all three have shown amazing ingenuity and resilience. This film is about talented artists, who have only gotten better with time, striving to stay true to their art while the entertainment business is focused on television, movies and 'stars.' "
"I was growing my fingernails extra long, just so I could hang on to the edge right there, and not slip off," said Durst.
Things were tough for a while, but this is a hopeful film about persistence, dedication and overcoming obstacles.
"I think comics are like blues musicians — we get better as we get older, 'cause we learn more tricks, we're much more confident," says Durst. "I love to get out there on stage, and when it works, it's better than anything. It's better than sex, better than drugs, better than family, it's better than — than chocolate fudge."
"Can you think of a better way to earn a living? Making people laugh out loud against their will?" he asks.
Choosing who to focus on as the main characters in the film was a fun challenge, Campos said.
"(The three) together bring a great wide spectrum of stand-up comedy: Johnny unleashes a tornado, Will twists words and politics into hilarious knots, and Larry bemoans his lack of success with the ladies."
The plan is to finish "3 Still Standing" by the end of this summer, and the filmmakers want to enter it in film festivals such as Sundance, Tribeca and Austin's SXSW.
A 10-city launch for screening the movie tentatively includes Pittsburg, San Francisco, Chicago, Milwaukee (Durst's home town), New York, Boston, San Diego, Los Angeles, Seattle and Denver.
Campos and LoCicero have made dozens of documentaries for the Science Channel, National Geographic, Discovery Channel, A&E and others. This is their first independent documentary.
The Facebook page for "3 Still Standing" can be found here.
Trailer for "3 Still Standing":