"August: Osage County" – a film review by Gary Chew
Whose afraid of Violet Weston? Nearly everyone in Osage County it seems. And what with the suicide in the family and the subsequent funeral service, Violet (Meryl Streep) is really on an Northeastern Oklahoma tear.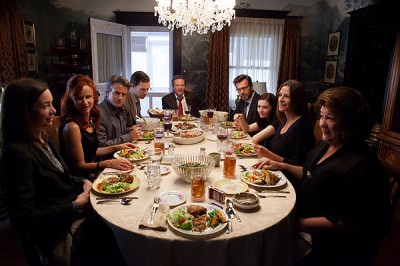 She directs most of that vitriol at her eldest daughter, Barbara (Julia Roberts). Violet's younger girls, Ivy (Julianne Nicholson) and Karen (Juliette Lewis) also get strong doses of their mother's wrath, but since Barbara stands up to Violet with such feminist muscle and language even more foul that what Mom spouts, Barb's really in the cross hairs.
Uncle Charlie (Chris Cooper) is under attack especially when Violet tells him to say a prayer as the family sits down to its after-funeral-dinner in the August heat of rural Osage County — not far from the real Oklahoma town of Pawhuska.
Barbara's estranged husband Bill (Ewan McGregor) and their 14 year old daughter, Jean (Abigail Breslin), have come to Osage County for the funeral, but not the verbal abuse that both Violet and Barbara give the father and daughter.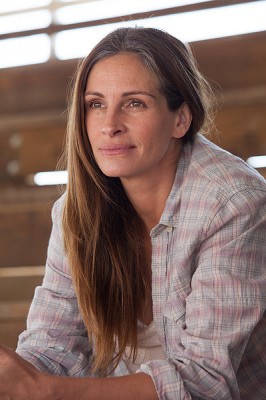 Ivy's already there, looking forward to seeing her male cousin Little Charles (Benedict Cumberbatch). Little Charles is the son of, naturally, Uncle Charlie and Violet's sister, Mattie Fae (Margo Martindale).
A whole other movie just about Uncle Charlie, Little Charles and Mattie Fae could be made … believe me.
Karen has breezed in for the somber occasion from a more sophisticated clime with her fiance, Steve (Dermot Mulroney). Steve has a really cool red convertible sports car and drives the Osage County two-lane blacktops much faster than Barbara, Ivy and Uncle Charlie do. Steve might make you recall Lawrence Kasdan's 1983 film character, "Sam Weber."
What William Hurt and Mary Kay Place do while driving to the funeral seen in "The Big Chill" is what Steve introduces young Jean to in the backyard of the Weston home on a late summer night. Barbara and almost ex-husband Bill are not amused. In fact, no one is.
But you'll be laughing as you watch how human beings can be so nasty and ugly to other humans, particularly close family or, as it would seem, the ones loved most dearly. Edward Albee and Tennessee Williams have long been playwrights who thoroughly know what lies in the secret thoughts of people bound together … alas, with the same last name.
Tracy Letts, another great playwright, has got it down with as much excellence as he created the award-winning "August: Osage County" as well as its screen adaptation. Bravo for the native Tulsa, Oklahoman. He took home a Tony and Pulitzer Prize for this creation. Lets see what happens with a film of same.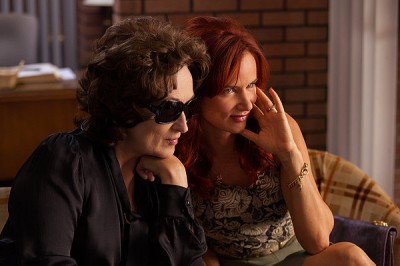 Motion pictures adapted from the stage can sometimes be frightfully static and boring just because the story on the screen doesn't have to be confined to a part of some lighted space just beyond the front row found in a theater. No problem here. "Osage County" dialogue is so riveting and its characters so real, you won't care if lots of the conversation occurs at the big dining room table, on a backyard porch swing or walking from the back door of the house out to a shed, then simply carrying chairs from the shed back to the house, or not.
Stand out performances come from Streep, Roberts, Cooper and Cumberbatch. But no slouching goes goes on anywhere in this movie that was directed by John Wells. Actor George Clooney is one of the producers.
I sensed the people at the "Osage County" screening I attended being especially quiet. I thought I could almost hear them listening loudly, being as silent as they could doing so — except for the laughter when Tracy Letts wants it.
Gary Chew reviewing the movie on the retro-style "Matías Bombal's Hollywood" channel on YouTube:

Latest posts by Gary Chew
(see all)