The 138th Sacramento Valley Scottish Games and Festival in Woodland April 26 and 27, 2014.
The last full weekend of every April brings one of the oldest festivals in California's Central Valley to Woodland: The Sacramento Valley Scottish Games and Festival, the third-oldest Highland Games in the U.S. and the second-largest in the western states.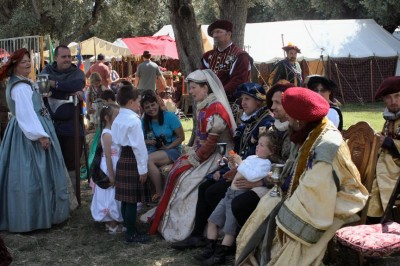 Experience traditions of the Scottish Highlands in two days of Celtic music, dance and athletic competition, history, animals, art, clans and cuisine at the Yolo County Fairgrounds.
The Sacramento event is known as "the friendly games," because it has a family atmosphere where everyone is welcome. It draws professional athletes, musicians, drum majors and dancers from around the world, including competitors and performers from Scotland and Ireland.
It wouldn't be Scottish Highland Games without bagpipes, and the event will feature nine pipe and drum bands, competing in three skill-level grades. Details are online at www.saccallie.org/games.
The non-stop musical entertainment includes the Wicked Tinkers, Molly's Revenge, Men of Worth, Culann's Hounds, Scottish fiddlers, Celtic harps, and of course top-notch bagpipe and drum bands.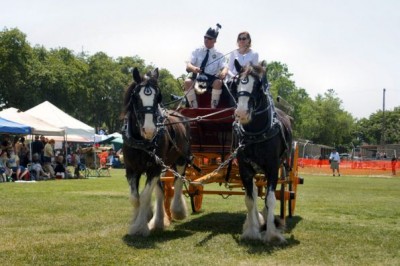 Also in Scottish tradition, Saturday night will feature a ceilidh (pronounced "KAY-lee"), or evening party, featuring live entertainment and a catered dinner by Ludy's Main Street BBQ and Catering. Tickets for the ceilidh can be purchased separately for $17/adult or $12/children. For more information, visit the Caledonian Club's website or call (916) 538-9887.
The St. Andrews Society will sponsor an Open Piping Piobaireachd Contest, Sunday morning, with cash prizes for the top three pipers. Another special event is a drumming competition in honor of the late Scottish percussionist and foothills resident Jimmy Brown, who played in many Scottish Games, and enjoyed the Sacramento Games during his later years. The drumming award will be presented during Saturday's closing ceremonies with the massed bands, at 4:45 p.m.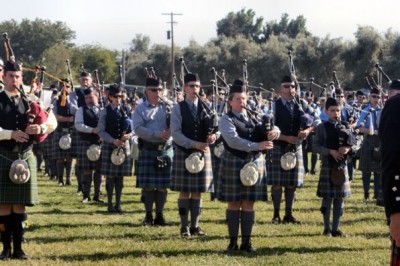 This is the first year the event has offered open piping and drumming contests, which organizers hope will attract even more outstanding musicians to the Sacramento Valley Scottish Games than usual.
British food, Celtic art and merchandise, the amazing Hennigan Spinning Frisbee K9s (Saturday), huge Clydesdale horses from the Jack London Ranch, Highland cattle and other animals typical of Scotland round out the variety of fun. There's even a seminar on fine "Scotch" whiskey that includes tasting (and costs $20).
Hours:  9 a.m. to 5 p.m. both days.
Gate Admission Prices:    One Day Ticket         Two-Day Ticket
Youth (8-17):                                     $6                              $8
Individuals (18-59):                          $15                           $20
Seniors (60+):                                  $10                           $14
Military Personnel with I.D. and children under 8: Free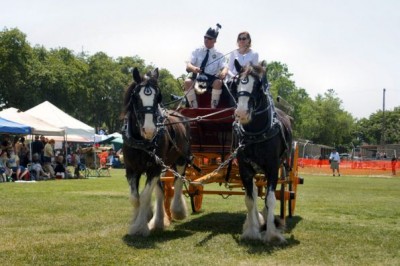 Saturday Night Ceilidh (includes BBQ dinner):
Kids 11 and under: $12
Individuals 12 and over: $17
Whisky Seminar (includes tasting):
Adults 21 and older only, $20. Purchase tickets at Games Information Booth.
Parking: $5
Yolo County Fairgrounds is a 15-minute drive northwest of Sacramento International Airport. (1125 East Street at Gum, Woodland, CA 95776)
Additional Public Information: Phone 916-538-9887 or e-mail info411 (at) saccallie . org.
—————————————-
The Caledonian Club of Sacramento, established in 1876, hosts these Games. It is a nonprofit organization formed to preserve Scottish heritage, culture and traditions. For more information, please visit our website at www.saccallie.org.