Cathay Pacific pilots and flight attendants were shown in online photos having sex in the cockpit Tuesday, embarrassing China. The photos look a little tricked up. Sully Sullenberger would never even think about making an emergency landing on Connie Chung.
A Miami Hurricanes booster said he gave college players cash, jewelry, hookers and a yacht with a wet bar. It really works for recruiting. The new NFL contract is so terrible a lot of the NFL players have decided to go back to school so they can maintain their lifestyle.
Kobe Bryant was accused by a man of assaulting him during church on Sunday in San Diego. The NBA star thought he saw the man taking cell phone pictures of his wife in the sanctuary. Every time he sees a camera that's not pointed at him, he is overcome with rage.
The Minnesota Twins received six hundred condoms from a condom company Monday in honor of Jim Thome hitting his six hundredth home run. That's just sick. Most teams celebrate by shaking up a bottle of champagne and spraying that all over the locker room.
MGM Grand asked permission to implode its unfinished high-rise tower in Las Vegas Monday. It was going to be full of million-dollar condos. Construction problems became apparent when building inspectors found that no one was going to buy one of these condos.
Broadcasters Weekly reported Monday that many Americans have begun getting rid of their cable networks and cable news to cut expenses. That's an act of self-robbery if you enjoy the best in entertainment. This week's episode of Bachmann was just hilarious.
Michelle Bachman paused during her speech in Iowa Monday to inform her audience that it was Elvis Presley's birthday when it was the anniversary of Elvis's death. It must be frustrating for the candidate. She can't keep Elvis's birthday or the gay community straight.
President Obama toured the midwest Tuesday in the new presidential bus made in Canada but customized by Hemphill Coach of Nashville. They customize buses for country music stars. The president has no use for the wig rack or the pot compartment but they come standard.
President Obama gave a speech in Iowa Tuesday where he said economic progress is being hampered by partisan warfare in Congress. He blamed the lack of progress on Republican rigidity. It's lasted more than four hours and it's time to seek medical attention.
GOP candidate Rick Perry said Fed Chairman Ben Bernanke is committing treason if he prints more money. Perry warned him that he'll be treated ugly if he comes to Texas. The next day Laura Bush called and said if he doesn't tone it down she is going to leave him.
Rick Perry got into a war of words with the White House Monday over the tone of his criticism of President Obama's policies. The governor and the president need to take a deep breath and remember what they have in common. They both used to be Democrats.
Agriculture Secretary Tom Vilsack said Monday that food stamps create jobs. He did not mean their manufacture. Food stamps used to create a lot of jobs when they were printed on paper but now that it's done electronically they only create jobs for coal miners.
New Zealand supermodels wore bikinis and rode scooters as they drove sheep herds through Auckland to urge New Zealanders to abstain from sex. They want everyone to save their passion for cheering for the national rugby team this week. Michelle Bachmann's husband read this and offered New Zealanders counseling on how to pray away the sheep.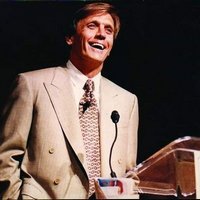 Latest posts by Argus Hamilton
(see all)