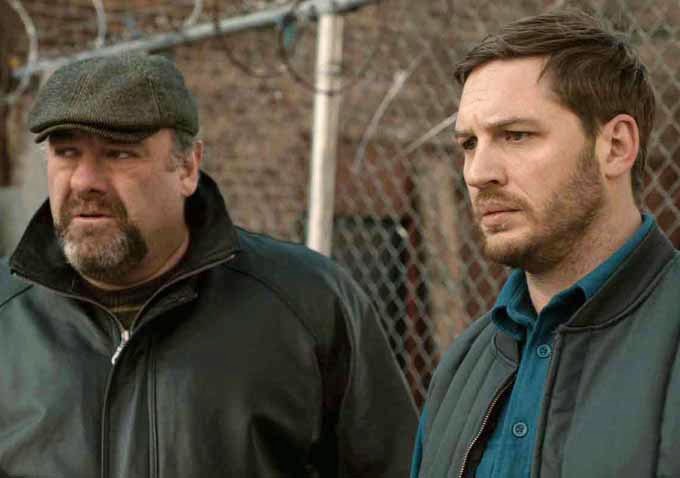 "The Drop" – a film review by Gary Chew
Dennis Lehane's characters in "The Drop" are not special, just real. They possess the varied qualities and deformities found in the hearts and psyches of all human beings. These factors are always at play in Michaël R. Roskam's absorbing, funny and violent third feature film. (I'd keep my eye on Roskam's future work, by the way.)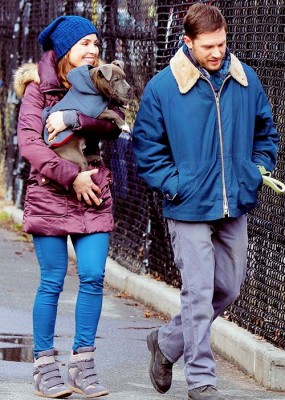 Bob (Tom Hardy) is the bartender at Marv's bar. Marv (James Gandolfini) is Bob's cousin. The bar is one of several rotating drops for overnight money that's been "obtained" and held until the Chechnian mobsters "ruling the roost" drop by to pick it up. This kind of money can't be put in the bank — if you know what I mean.
After two thugs make a swift, effective armed robbery of the bar, Marv's establishment is scheduled to be the drop spot for large amounts of cash and its laundering on Super Bowl evening. In terms of how money moves, it appears to be a much bigger night than New Year's Eve at a Vegas casino.
As the big night approaches, Bob finds a battered Pit Bull puppy in a rubbish can in Nadia's (Noomi Rapace) front yard. He names the cute mutt Rocco. Bob's gentle side shows, and so does Nadia's as the pair makes life better for Rocco while becoming better acquainted. Bob also goes to Mass, where he meets a religious New York City detective called Torres (John Ortiz). Bob doesn't take communion like the cop does and we wonder why.
Peripheral roles seep into the narrative. Eric Deeds — the name of one of them — is played by Matthias Schoenaerts. The Beligan actor played the intense lead character in Roskam's earlier movie called "Bullhead." Schoenaerts also co-starred with Marion Cotillard in Jacques Audiard's powerful film, "Rust and Bone."
Briefer appearances are made by Chovka (Michael Aronov). Chovka is one of the guys who drops by Marv's bar to pick up the drop money and subtly threaten Marv and Bob and anyone who looks as if he might become a problem – if you know what I mean.
A low-key scene which mostly establishes characters comes when Gandofini plays to Marv's sister, Dottie (Ann Dowd). It's so real you may feel you could be peeping through Marv and Dottie's dining room window.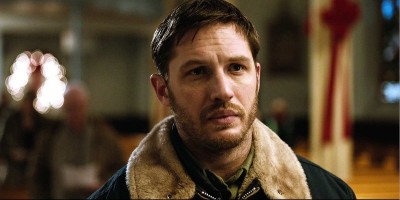 Dialogue in "The Drop" is super. And it's always the kind of chatter that skirts what's actually meant in the communication between characters. It gets funny sometimes just for that reason alone, since the message most often is sinister. In more than one scene, Rocco the puppy is discussed at length while the conversation at hand has absolutely nothing to do with any dog, anywhere in New York City – if you know what I mean.
Keep your eye on the many entrances and exits of characters and remember their names and faces if following the story well is necessary for you. The script does come from a short story by Lehane.
Gandolfini prevails even in his second banana spot in "The Drop." God, I hate to think about not seeing this guy do more in film, just like Philip Seymour Hoffman. But keep your eye on Tom Hardy. Recently, he was seen in "Locke," the movie that has a guy driving at night in a BMW SUV talking on his cell phone a lot in just about every scene. Hardy brings it off in that one as he does as a completely different kind of guy named Bob tending bar in a joint also known as "The Drop."

Latest posts by Gary Chew
(see all)