Washington D.C. had an earthquake Tuesday felt along the Eastern Seaboard just one day after a Colorado quake and a month after temblors in the Midwest. You can imagine people's reaction in Los Angeles. It's like they're giving earthquakes to anybody these days.
Washington D.C.'s earthquake prompted an immediate evacuation of all federal office buildings Tuesday. No one's hurt. The government came to a complete halt at twelve o'clock noon and by sundown the United States was debt-free and the budget was balanced.
New York residents panicked when they felt an earthquake for the first time in their lives Tuesday. Their reaction to the thirty-second temblor caused everyone on the West Coast to laugh. Southern Californians shake more on our first day at the Betty Ford Center.
President Obama interrupted his golf match Tuesday to get on the phone with FEMA for an earthquake damage assessment. Afterwards he spoke to reporters. He expressed total confidence that he could get in another eighteen holes before Hurricane Irene arrives.
Hurricane Irene headed to the Eastern Seaboard with Category Three high winds this week. It arrived in the Carolinas. People driving north to attend the Martin Luther King statue dedication in Washington reported they were getting five hundred miles per gallon.
Mexican billionaire Carlos Slim bought up more New York Times stock Tuesday after the stock price plummeted over falling circulation and ad revenue. His actions say it all. The only way to save a liberal newspaper in the Age of Obama is to publish it in Spanish.
Sarah Palin discussed the possibility of entering the presidential race and when she might decide to enter the race in an interview with ABC News on Tuesday. She said that early September is her drop-dead date. Whenever that happens it will be a moose holiday.
President Obama announced cuts in government red tape Tuesday that would allow doctors in rural areas to practice tele-medicine. Not all the regulations are final. Now all the country clubs have to decide whether having an iPhone in your bag counts as a club.
President Obama tasked EPA director Lisa Jackson to impose new green restrictions on coal mining last week. It's an unneeded burden. Coal mines are so clean and neat that last fall's thirty-three rescued Chilean miners are suffering from the transition to fresh air.
CBS host Craig Ferguson notified the FBI when someone mailed him an envelope full of white powder Tuesday. He didn't hesitate to act. Whenever people in show business get mysterious powder in the mail we inject it into a wrinkle immediately to see if it helps.
Tiger Woods didn't qualify for the FedEx Cup Championship adding to the PGA Tour ratings woes. The legends need to help. Jack Nicklaus just volunteered to come back and play a few tournaments and Arnold Palmer just offered to start dating pancake waitresses.
The White House vowed Wednesday to end oil company tax write-offs for the cost of exploring for new oil. It's no surprise. The modern Democratic Party has two articles of faith, that everyone should make the same amount of money and that the oil will find itself.
John Bolton warned Thursday that Libya's supply of uranium and chemical weapons and shoulder fired anti-aircraft missiles could fall into al-Qaeda hands. Warning about the possibility of weapons of mass destruction in a Mideast country is the first step on the way to sending U.S. troops to secure the country. Republicans recite it like the alphabet.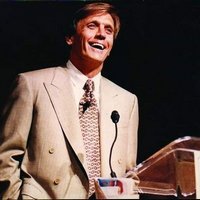 Latest posts by Argus Hamilton
(see all)