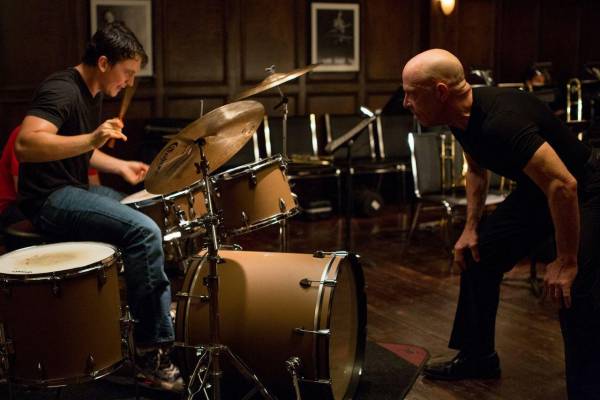 Whiplash – a film review by Gary Chew
The kind of movie Whiplash is usually would make it about a young athlete trying to be the best football player or baseball player there is. Not so with this solid film written and directed by Damien Chazelle.
There are no baseball bats or football helmets in Whiplash, but a abundance of saxophones, trumpets, trombones with an emphasis on drum kits and one determined young drummer who wants to be as good as Buddy Rich. Is there anyone around who's naïve enough to say Buddy Rich was a sissy?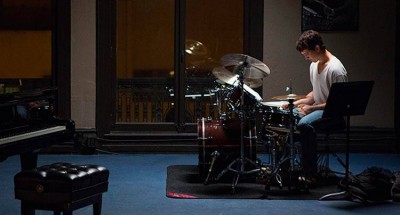 Happily, Whiplash is also a refreshing paean to big band jazz .. of which I have always been a fan. But it's definitely not your basic Glenn Miller Story. It comes closer in tone to The Man With The Golden Arm with a 1950's Frank Sinatra as Frankie Machine, a scuffling drummer with a monkey on his back. But Whiplash refreshes further as it has no drug scenes. What it does have lots of are high-caliber performances.
Miles Teller, who did such a fine turn in The Spectacular Now, plays Andrew … a kid just into a high class, but cutthroat music school for jazz in New York. His drill sergeant of a big band prof is named Terence Fletcher. The role gives J.K. Simmons (LA Law) an opportunity to give a knockout reading. He does not disappoint. In fact, the Terence character reminds me of Buddy Rich, even though Mr. Rich was not a college professor.
Paul Reiser plays Andrew's dad. That is a good relationship. Son and Dad are solid. On the other hand, it's touch and go with Andrew and Professor Fletcher. You see, the Prof wants to be a champion of all music contests in which he enters his student big bands. "You will play perfectly in my band," is the short of it in terms of Fletcher's teaching philosophy. (I've left the expletives out of that quote.)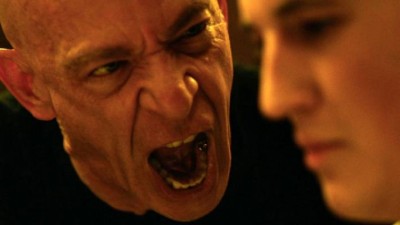 Andrew meets Nicole (Melissa Benoist; Glee) at a movie concession stand and asks her for a date. Something gets under way for the couple, but stalls when Fletcher begins laying the wood to Andrew for not keeping the hard-tasking maestro's tempi. Must listen to Buddy Rich records and practice, practice, practice … till it bleeds.
Whiplash is jammed with barracks language, most of it barked by Fletcher to his quaking students. The humiliation and insult put to his charges is almost shocking.
There's a bit of predictability in the story, but other unforeseen twists put balance to the picture.
Another title for Whiplash, I suggest, could be "Big Band Boot Camp." But that's not saying enough for it. It's one of the better movies I've seen in 2014, along Birdman, The Immigrant, The Grand Budapest Hotel, The Theory of Everything and the just released Nightcrawler.
It's that time of year, people. I'm sure there's more to come of such a brand of motion picture before the holidays.


Latest posts by Gary Chew
(see all)