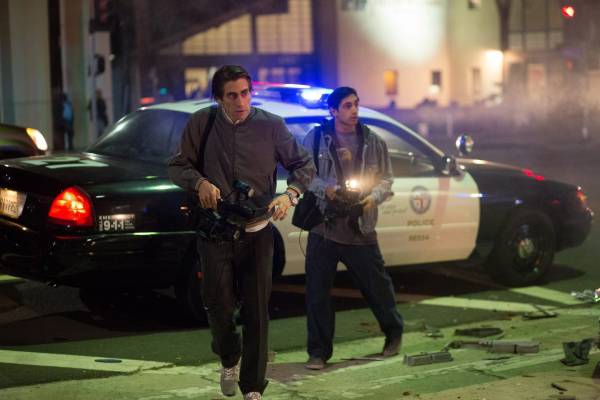 Nightcrawler – a film review by Gary Chew
Lou Bloom (Jake Gyllenhaal) is a serious young man without a job. By getting to know Lou, one would think he'd be gainfully employed. He's industrious, a quick study, well organized and shows keen management skills. But Lou also seems to be slightly on the obsessive/compulsive side and presents some behavior patterns suggesting he's a sociopath.
The name of the movie in which the Lou character appears is called Nightcrawler. You could also call Lou a vulture or a bird of prey or a scab. He's the kind of person who waits for just the right moment to take a calculated risk for personal gain when chances are at their lowest for any blow back. That may be a long-winded way of saying Lou is a clever coward.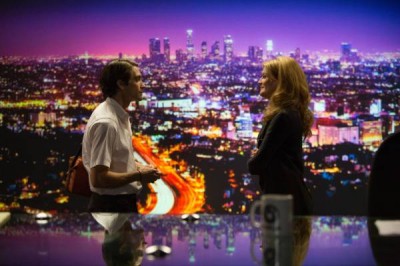 Indeed, you're going to "love" Lou .. especially when he finds his career calling .. and a way to make a good living at it. The movie was written and directed by Dan Gilroy who's father, Frank Gilroy, won a Pulitzer Prize for The Subject Was Roses.
Having spent some time at the margins of local television news gathering, Nightcrawler elicited genuine hoots of laughter from me. I'm sure any one who does TV news, or is around it in some way today will find this film about a really creepy guy who shoots freelance news video of crimes and freeway accidents across the restless gulf of Los Angeles, California will emit some kind of vocalized expression too. Though I'm not sure if it will be laughter.
Lou employs an assistant. That's Rick, played by Riz Ahmed. Rick is homeless and starts helping Lou with street assignments for 30 bucks a night. That's after Lou makes initial contact with Nina, played by Rene Russo. Rene is the news director of a fictitious channel six TV station that's dead last in the LA metro ratings.
Most everyone has heard what is now the old saw, "If it bleeds, it leads!" So Nina is especially taken with Lou's positive attitude learning the TV news biz, at least out on the street with his video camera. After some early bumps, the pair becomes quite the team. They collaborate on some really awful TV news for the millions of viewers living around Hollywood and vicinity.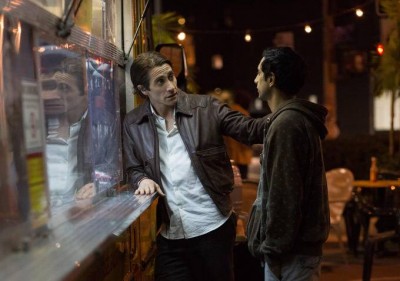 Lou and Rick score with unbelievable coverage of a home invasion/drug robbery in an upscale part of town. Three residents are shot dead by two intruders. Our boy Lou has become so good at his job by now that he beats the cops to the scene and videos the corpses as well as blood-soaked carpets in the fancy dwelling. The early roll of this sensational clip shows the shooters racing from the home, leaping in a black SUV and speeding away before police arrive. Lou is so adroit that he gets good video of the vehicle's license plates as well. Back at the station newsroom, Nina is beside herself.
Our "hero" manages to do things even more vile later in Nightcrawler that I won't mention. But much mention must be made about Jake Gyllenhaal's performance. As many others have said, Jake is like "you ain't never seen him before" in a movie. There are moments when Gyllenhaal's eyes remind me of a Hunter Pence stare coming from way out in right field at AT&T Park. Gyllenhaal, along with Michael Keaton in the just released Birdman, may have some rewarding moments come early 2015.
What kinds of titles have LA in them? Oh let's see .. LA Confidential (one of the best); TV-wise, there's LA Law; song-wise, it's LA Breakdown .. as sung by Jack Jones and Helen Reddy from the late Sixties. Now we have a new movie called Nightcrawler .. or as I'd like to re-titled it, LA Creepy. But very good.

Latest posts by Gary Chew
(see all)