Comic book series' latest features Stephen Colbert
This week, Bluewater Productions' popular and collectible comic book series, Political Power, will focus on satirist and pundit, writer and producer, actor and comedian, critic and pitchman, host of The Colbert Report and soon host of The Late Show, Stephen Colbert. The 22-page comic book is written by Hal Hilden and features art by Kelly Brine.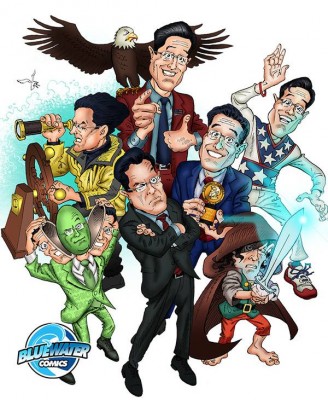 "Stephen Colbert's brand of satire and interviews have entertained and enlightened my family and me for a decade. These drawings are my thank you for the smiles and laughter given to us by our favorite Renaissance man," said Brine.
Encouraged by the success of their Female Force series, Bluewater brings its brand of tasteful, intelligent storytelling to the political genre.
The Political Power series explores the events that shaped the personalities into the people we know, telling the stories behind the rise of people in politics, on both the left and the right.
Exploring the obstacles Jon Stewart and Bill O'Reilly overcame to emerge as leaders in political media, or the rise of innovative, motivated women like Hillary Clinton and Michelle Bachmann who help shatter the glass ceiling in politics, the Political Power series brings their stories to life in graphic form.
Personalities featured in the series include Bill Clinton, Jon Stewart, Ronald Reagan, Glenn Beck, Jack Welch, Colin Powell, George W. Bush, Al Franken, Nelson Mandela, Ted Kennedy and many more, with 40 titles now in print. Political Power has been applauded by media outlets as offering well-informed, in-depth biographies on some of the most important figures in our society.
"My goal was to write a fun little biography, mixing fact with fiction, that hopefully one of Stephen Colbert's many personas would enjoy reading," said writer Hilden.
One of the most important factors that drive the team behind Bluewater is the mission to get kids reading. The Northwest-based publisher has had the privilege to work closely with schools and libraries on this initiative. "Growing up, I was a reluctant reader. Bluewater strives to reach kids in similar situations that may be more apt to read when a comic book is placed in front of them," said Darren G. Davis, President of Bluewater Productions. "I have been a featured speaker in schools and found comic books to be an excellent way to reach children."
Copies of Political Power: Stephen Colbert are available on iTunes, Kindle, comic websites and wherever eBooks are sold. Print copies can be exclusively ordered at www.comicfleamarket.com.
For more information, visit www.bluewaterprod.com.