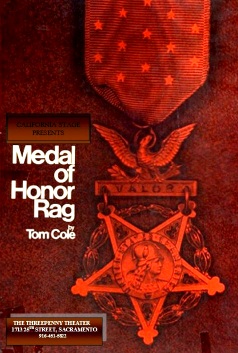 About one in three Vietnam veterans suffered from full or partial Post Traumatic Stress (PTSD) after the war – it is estimated that over 300,000 of our returning soldiers from the Middle East will have PTSD. The play "Medal of Honor Rag," opening at California Stage October 28th, is a solemn true narration of one Soldiers' plight. It is a dramatic, haunting play.
The play tells the true story of D.J. Jackson, who was awarded the Congressional Medal of Honor for his heroic efforts in Vietnam in the 70's. As the story goes, he is disillusioned, despondent and depressed, and has seen countless of psychiatrists since his return to the United States from the war. Seeing a new psychiatrist, his initial reaction is to be hostile and suspicious. But what follows are bitter and emotional exchanges, as these two individuals, both guilty survivors of Vietnam, verbally spar until the doctor draws out the horror and disgust that has traumatized D.J. from explosive outbursts to heart wrenching cries.
The play is directed by award-winning veteran theater artist Janis Stevens, with Patrick Murphy and the attending psychotherapist, Isaac Williams as Medal of Honor winner, Dale Jackson and Robert Bogue as a military police sergeant.
"Medal of Honor Rag" plays weekends between October 28 to November 27 2011 in the Three Penny Theater at the R25 Arts Complex, 1721 25th Street at 25th Street in Midtown Sacramento.
Show times are Fridays and Saturdays at 8:00 pm and Sundays at 2 PM. Ticket prices are $20.00, for general admission, $15.00, for active and retired military, students, students, SARTA members and seniors, and $12.00 for groups of six or more. Easy free parking available No late seating.
Reservations can be made by phoning 916-451-5822, or you may order online at www.CalStage.org.