Columbus Day was marked with New York parades Monday as all government offices were closed. The financial markets were open and the Dow went up three hundred points. It is the latest proof that a government shutdown could be the solution to all our problems.
The Detroit Lions stayed undefeated Monday after the Detroit Tigers reached the AL playoffs. Ford and GM are now turning a profit. If the Underwear Bomber is found not guilty of trying to blow up Detroit two years ago he should rent himself out as a rainmaker.
California's governor Jerry Brown signed a law Monday which bans Californians from openly carrying a handgun. However the handgun ban carries a few exceptions. The bill exempts California hunting and shooting events, such as changing lanes on the freeway.
London's clock Big Ben was found to be tilting by surveyors from the Royal Academy of Sciences Monday. The tower clock is tilting eighteen inches toward the north. If Big Ben remains in that position for more than four hours the directions say to consult a doctor.
Sir Paul McCartney married a New York trucking heiress in London Sunday. Millions have fallen in love and gotten married under the spell of his tunes. One day songwriters may be held liable for the damage they cause just like gun makers and cigarette companies.
The Justice Department reported Monday it will begin raiding California's medical marijuana stores. Whose side are they on? First they supply the Mexican drug cartel with automatic weapons and now they're closing down the American stores that compete with them.
Iran's Revolutionary Guard hired a U.S. undercover agent to blow up two Washington D.C. embassies and kill the Saudi ambassador. It's an act of war. The reason you don't see any Iranians on the crew of the Starship Enterprise is because Star Trek is set in the future.
The FBI arrested an Iranian who paid an ATF agent to kill the Saudi ambassador. He wasn't really going to kill anyone. However when the U.S. gives out money for a stupid project that will never happen you'd be an idiot not to take it and then declare bankruptcy.
The Nobel Prize for Economics was awarded to two American economics professors Tuesday. Their macroeconomic theories are being tried by banks worldwide. They plan to split the million and a half dollar prize and give it to Glenn Beck to invest in gold for them.
Hank Williams Jr. ripped ESPN after the network dropped him from Monday Night Football for comparing Obama to Hitler. The network had its reasons. Market research shows that TV viewers reach for the remote the moment anybody mentions Obama's name.
Wall Street protesters marched up Broadway Monday. News cameras showed them teaching each other to open handcuffs with a bobby pin. Variety just put out a casting call for one Houdini and a understudy and everyone in the park got a call from their agent.
Chicago Marathon contestant Amber Miller gave birth right after she crossed the finish line Sunday while another runner died during the marathon. That's the cycle of life in Chicago. People are born and people die, and no one ever sees the Cubs in the World Series.
Tim Tebow came off the bench in the second half to lead Denver to two touchdowns Sunday, earning a chance to start. Kyle Orton may never get his quarterback job back. Tim Tebow is a devoutly evangelical Christian and he practices pre-marital abstinence, and the likelihood that he's going to be suspended by the league for dogfighting's very slim.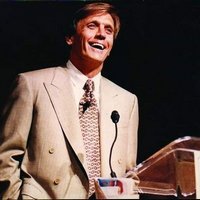 Latest posts by Argus Hamilton
(see all)