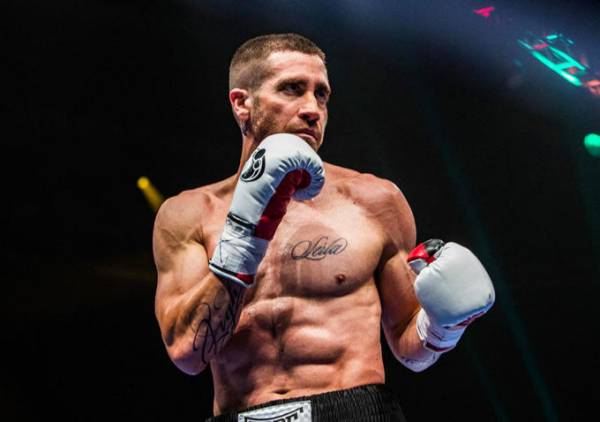 "Southpaw" – a film review by Gary Chew
"If it makes money, it makes sense."
Sounds like a less offensive TV news soundbite from Donald Trump on a stump speech … right?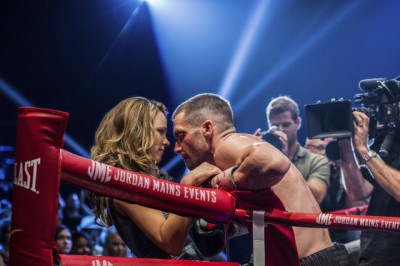 Wrong. The sentence is spoken by an oleaginous fight promoter in a new film titled Southpaw — directed by Antoine Fuqua and starring Jake Gyllenhaal. The line is said to Billy Hope (Gyllenhaal) in order to persuade him to take on another big fight. An excellent black actor and well-known rapper known as 50 Cent (born Curtis James Jackson III) does the part of the promoter.
Billy is the world's lightweight boxing champion — and success ($) is in his corner. Maureen (Rachel McAdams) is Billy's beautiful wife. They have a ten-year-old daughter named Leila (Oona Laurence). The Hopes live in a palatial mansion. Except for the bloody cuts and painful bruises Billy suffers as a pugilist, life is good.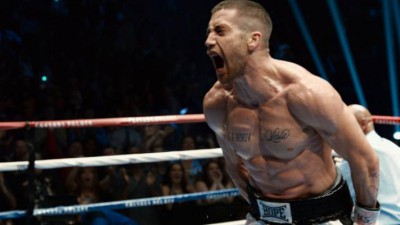 Billy's a great boxer, but a lousy manager … of his anger. He appears as a savage in the fight scenes which are much of what Southpaw is. "Bloody but unbowed" sums up Billy Hope. His fights are not for the eyes of little Leila; they're even tough for Maureen to watch, but she's always ringside to give her husband the support he needs as he cuts down opponents … and brings home big bucks.
Whether it might be Kirk Douglas, Robert DeNiro, Hillary Swank or Jake Gyllenhaal doing the part, such movies are usually burdened with hackneyed story arcs. The scriptwriter is locked into it, if the picture is about boxing.
The fighter in a movie like this usually takes a fall … on the canvas … or psychologically, then tries to battle back to some kind of victory or redemption, with or without success. Family may be included, as in Southpaw, or the fighter does or doesn't accomplish a comeback alone.
There's always a mentor for the fighter who may take form as in characters played by Clint Eastwood, Morgan Freeman or Forrest Whittaker, who plays Tick in Southpaw.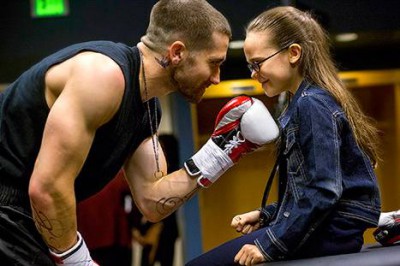 Fuqua's film takes its energy from the tension between the anger/violence that's common in adult males with the abiding love men may hold for family and children. First guy I think of on that score is Tony Soprano. What a father. What a mobster. Is the dark side of the man in question ultimately worthy due to the respect he holds for family? Such characters are everywhere on the written page and screen.
What's visually memorable about Southpaw, however, is its masterful editing and the authenticity of the action in the ring.
Gyllenhaal is awesomely convincing as a pugilist. Bloodied and screaming through his mouth guard, he's almost unrecognizable in the opening scene. Jake obviously works out a lot. Rachel McAdams, as the tragic wife and mother figure, is about as good as any a casting director could ever want. She's nearly as tough in Southpaw and she is playing one of the badass cops in HBO's second season of True Detective. Forrest Whittaker always comes through with a K-O performance. As the upright black man teaching young Afro-American big city guys how to fend for themselves in his modest gym, as well as helping Billy get his act back together to maintain custody of Leila after losing Maureen, Tick is seen to be a kind of disheveled, angry savior.

Latest posts by Gary Chew
(see all)