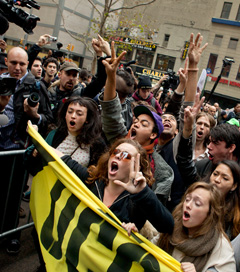 Excerpted from a post by Chris Hedges on Truthdig | Op-Ed
Welcome to the revolution. Our elites have exposed their hand. They have nothing to offer. They can destroy but they cannot build. They can repress but they cannot lead. They can steal but they cannot share. They can talk but they cannot speak. They are as dead and useless to us as the water-soaked books, tents, sleeping bags, suitcases, food boxes and clothes that were tossed by sanitation workers Tuesday morning into garbage trucks in New York City. They have no ideas, no plans and no vision for the future.
Our decaying corporate regime has strutted in Portland, Oakland and New York with their baton-wielding cops into a fool's paradise. They think they can clean up "the mess"—always employing the language of personal hygiene and public security—by making us disappear. They think we will all go home and accept their corporate nation, a nation where crime and government policy have become indistinguishable, where nothing in America, including the ordinary citizen, is deemed by those in power worth protecting or preserving, where corporate oligarchs awash in hundreds of millions of dollars are permitted to loot and pillage the last shreds of collective wealth, human capital and natural resources, a nation where the poor do not eat and workers do not work, a nation where the sick die and children go hungry, a nation where the consent of the governed and the voice of the people is a cruel joke.
The following two tabs change content below.

The
Humor Times
is the "World's funniest news source!" Sure, we like to inform our visitors, but in a playful sort of way. We believe political satire is one of the best ways to help folks let down their defenses and see things in a new light, as well as to help bring haughty leaders back down to earth. Plus, it's just plain fun! The
Humor Times magazine
(delivered to your door 12x/year) is a great way to enjoy this brand of humor, it makes a wonderful gift, and
SUBSCRIPTIONS
are very affordable!

Latest posts by Humor Times (see all)