Ex-governor given slot opposite Leno, before Letterman on CBS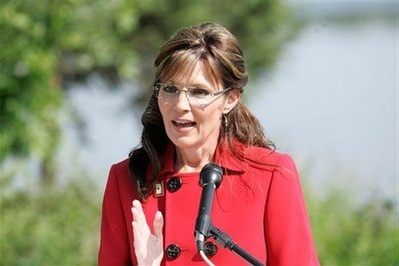 A Humor Times Exclusive
Former Alaskan Governor and Vice-Presidential hopeful Sarah Palin stunned pundits and fans alike in July when she announced her resignation, but has topped that with a real zinger today. Speculation flew for weeks as to hidden motives for the seemingly bizarre move to resign, yet no one could guess at what has now been revealed.
At a press conference held on a hunting trip in Alaska, Ms. Palin told invited reporters that she has agreed to host a new talk show, slated to begin next fall. The show, tentatively titled "Railin' Palin," will feature the ex-governor "railing" on the issues, and will compete directly with Jay Leno's new spot on NBC, even debuting the same week.
While Mr. Leno will continue to broadcast from his longtime studio in Burbank, Calif., Ms. Palin's show is expected to be based in Houston, Texas. "We considered having the show in New York, like Letterman, but that is not where Sarah's strongest base of support is," said the show's producer, William Stuckle.
And while Leno is expected to retain many of the most popular elements of his "Tonight Show," including bits like "Headlines" and "Jay Walking," some segments being planned for "Railin' Palin" are: "Palinspeak," wherein viewers will be treated to her latest inventive turns of phrase and "That Darn Elite Press," a humorous segment that "will provide a platform for "poking a little light-hearted fun at that lying, conniving, elitist press."
During her press conference, Ms. Palin revealed one other segment planned for the show. In between pot shots taken at exhausted wolves chased for miles by her hired helicopter, she said, "Of course, I'll be cracking jokes at Mr. Letterbub's expense every night – let's see how he likes it." Asked to give a hint of the nature of the jokes, Palin responded, "I'll say things like his six year old son has gotten little girls pregnant – you know, funny stuff like that."
"Of course, the liberal press likes to pile on and saying now that I'm a quitter. They just don't understand. They got the wrong girl – we Alaskans are born fighters, not quitters! All I did was swap my governor gloves for talk show gloves. I'm still punchin'," barked a visibly agitated Palin, firing shots all the while. "Like a guard in basketball, *POW* I'll bob and weave through that axis of evil press *BAM* by using their own TV against 'em *CRACK* and punching their lights out!" she continued, shouting over the gunshots and the drone of the chopper. "And I'm like, ok, God, *KABLAM* if you open this door for me – and this is what I always pray *KERPOW* – I'm like, I'm running through it. So, whether president or talk show host, *BAM* just give me a sign. And the good Lord has given me this sign." *POW*
She went on, saying, "Since that ol' Department of Law there in the White House refuses to prosecute Mr. Lesserman for his libels on my daughters, I'll just be my maverick self and use my own motherly instincts to protect them, by using Letterdude's own tactics right back at him. I'm looking forward to it – you betcha!"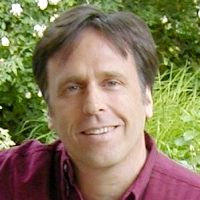 Latest posts by James Israel
(see all)