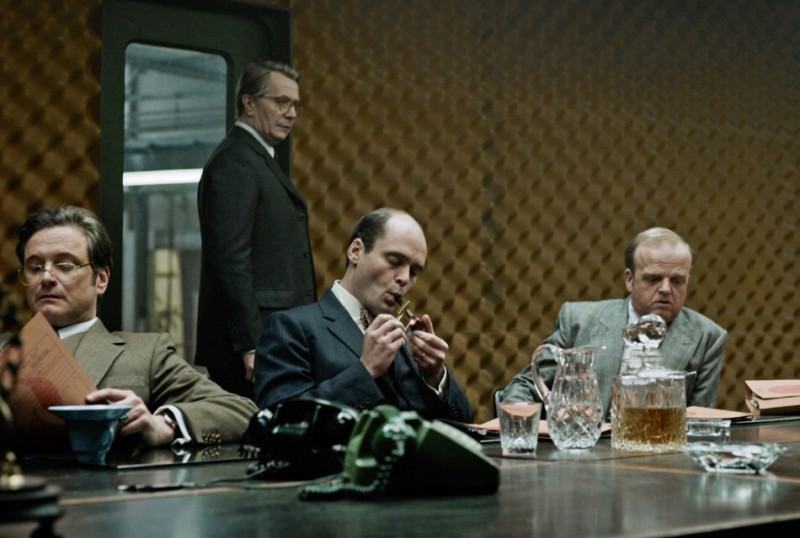 "Tinker, Tailor, Soldier, Spy" — A Film Review by Gary Chew
The film had run only five minutes duration when something in my head told me that, before getting too comfy in my seat, maybe I should have become a member of the "mens club" sponsoring this movie screening. There was nothing to indicate such a club, and if there were, I certainly wasn't part "it. No one had asked me to leave yet. But that silent, but nagging voice persevered throughout "Tinker, Tailor, Soldier, Spy." If you might not remember, it's the durable story taken from the same-titled novel by John le Carré.
This new edition of TTSS outclassed me by a least two polo fields. It's a very well made picture with marvelous players. There they were up on the screen: Gary Oldman, Colin Firth, John Hurt, Toby Jones, Ciarán Hinds, Tom Hardy, Benedict Cumberbatch, Simon McBurney and other fine British, Hungarian and Russian actors.
But gee, what was going on with the film? At first, I couldn't tell. Then much later, I still couldn't figure out what was happening but the movie was really well done and the topic was dreadfully important: Brits cold-warring against Ruskies with those bloody Yanks helping out. No, not soldiers or sailors or marines or even air force personnel, these guys were all spooks and, as John Hurt (in the role of Control) advises a colleague in TTSS's first scene, "Trust no one." Sure enough, they don't. Not even one another. But that's okay, because these blokes are only tacky to one another there in their isolated guys spy club. And in a most mannerly, umm…manner.
Gossip has it that someone highly placed in the Her Majesty's Spy Club (fondly and privately referred to as "The Circus") has burrowed into top-secret data that moves through the office. The clever mole is feeding it to Moscow!
Gary Oldman plays George Smiley, the retired and out-of-favor former operative brought back into The Circus to run the investigation and remove the mole that's burrowed. The terms, "mole" and "The Circus" were brought to espionage literature by John le Carré.
Years ago, I'd seen Richard Burton in "The Spy Who Came in from the Cold." It was taken from Mr. le Carré's best-selling same titled novel. I read the book too, but since that was a half century ago, there isn't a keen sense of memory about turning its pages. However, the movie lingers a little.
I do remember le Carré's writings as a sort of an antidote to Ian Fleming's 007 escapades. At the time, Mr. Bond's capers seemed well on their way to breaking records selling tickets and moving books. Sure enough.
Shot in black and white, The "Spy Who Came In from the Cold," was dreary, real and relevant…about a character who seemed to be, perhaps, more what a spy was during the Cold War. No shaken vodka martinis followed by private moments for Alec Leamus (Burton's role) abed with a dangerous and beautiful female enemy agent on a yacht in the Mediterranean. Burton did not get to say lines like, "I must be dreaming," after a svelte, intriguing female whispers her provocative name to Mr. Bond. It's an honor to have met you, Ms. Galore.
Both Fleming and le Carré were spies; Fleming, a British Naval Intelligence Officer and le Carré serving in MI 5 and MI 6. Fleming wrote with style and flair; le Carré went for what's real and more internal at a spy agency as well as the main characters in it. Both authors were overwhelmingly successful with James Bond preceding le Carré's Leamus by more than a decade.
It's taking a long time to say that…if you haven't read the book, seen the BBC and PBS television miniseries…or heard the BBC radio productions of "Tinker, Tailor, Soldier, Spy," the movie may not be your pint of ale…unless you enjoy watching really talented actors delivering obtusely written lines of quite abstruse dialogue as to how to neutralize the mole in their midst. Just know there are copious blanks that need filling-in as TTSS carries on. Readers of the book and avid viewers of the TV programs do have the distinct advantage of memory and thus, clarity.
I was naive enough to think that the screenplay might be crafted to bring what the story is about to those of us who'd missed the book or don't have a television set. Seems to me one of the most important efforts in adapting a novel to cinema is giving as much as possible about what and why stuff happens. Otherwise, inform the prospective viewers of TTSS that it—alone—doesn't relate enough of the story to discern what the bloody hell is going on. The notice for this could be given using much the same language as just written.
This "Tinker, Tailor, Soldier, Spy" is directed by Tomas Alfredson. By the way, a recent picture by Alfredson is one of the best films I've seen in the last few years: "Let The Right One In." Capital cinema!
Looks like the scriptwriters of the new "TTSS" kept a firm hold on the book, not making any special effort to get the story across to a moviegoer. Such is the challenge for one who adapts books to cinema.
Mr. le Carré not only plays one of the guests seen in an obstreperous TTSS holiday party scene, but is also one of the film's producers. I was wondering how much sway le Carré had over Peter Straughan and Bridget O'Connor when they were busy writing the screenplay.
Oh yes, le Carré is listed in the cast as a Christmas party guest. It's not clear whether or not Mr. Le Carré appears as Santa Claus (sans lines) at the spy guy's holiday bash wearing a falsified face of Vladimir Lenin…well…the Santa scene worked for me. Lenin as Santa? Don't you love the irony? Especially when it shows up in a re-do of a British spy yarn about mates who love to eradicate moles and solve puzzles and riddles — in an exclusive mens club.
"Tinker, Tailor, Soldier, Spy opened Friday, January 6th, at Sacramento's Tower Theatre, Land Park Drive and Broadway.
https://www.youtube.com/watch?v=Aco15ScXCwA&feature=youtu.be

Latest posts by Gary Chew
(see all)