Ad asks voters to vote for Cain, who is really Colbert
Since Stephen Colbert, of Comedy Central's Colbert Report, could not get his name on the South Carolina Republican Presidential Primary ballot in time, he is asking voters to vote for Herman Cain, who is on the ballot, despite the fact that he's not running anymore.
Actually, Colbert is not asking you to do this, his Super PAC is. OK, what used to be his Super PAC is. Now it's run by his pal and Comedy Central show-mate, Jon Stewart. But they are not coordinating in any way. That would be illegal!
Sound confusing? It is, but this campaign video will be sure to not clear it up for you. Enjoy!
http://web.archive.org/web/20150829224940/http://blip.tv/shutdown/message.html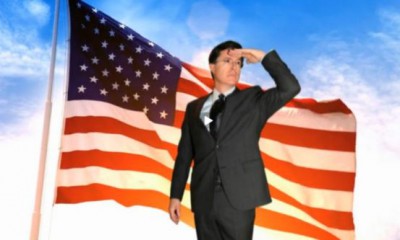 The following two tabs change content below.

The
Humor Times
is the "World's funniest news source!" Sure, we like to inform our visitors, but in a playful sort of way. We believe political satire is one of the best ways to help folks let down their defenses and see things in a new light, as well as to help bring haughty leaders back down to earth. Plus, it's just plain fun! The
Humor Times magazine
(delivered to your door 12x/year) is a great way to enjoy this brand of humor, it makes a wonderful gift, and
SUBSCRIPTIONS
are very affordable!

Latest posts by Humor Times (see all)