President Obama wrote Iran's leader a letter proposing direct talks on the Straits of Hormuz. He's willing to be photographed meeting with Iran's leader. Obama's decided he can beat Romney so easily he's going to lose New York and California to make it sporting.
President Obama disclosed he'll give his Democratic convention acceptance speech this fall at Bank of America Stadium in Charlotte. It seats seventy-four thousand people. The stadium is already sold out, but Obama persuaded the job fair to give him half an hour.
Newt Gingrich's ex-wife Marianne gave a two-hour interview to ABC News airing out the dirty laundry in their marriage. This could actually help him. America once had a president who cut taxes and cheated on his wife, and it will forever be known as Camelot.
The Costa Concordia's Italian ship captain was arrested in Italy Tuesday. He crashed his ship and left on a lifeboat with passengers aboard the sinking liner. The incident didn't help Italy convince their bondholders that the country will always be there for them.
Pittsburgh medical researchers discovered Tuesday that a person's adult stem cells could possibly be used to make them grow younger. Many doctors have been tinkering with it. Ron Paul has used it on his supporters for years and now they all look twenty-five.
The GOP candidates held another presidential debate in South Carolina on CNN Thursday. They all vowed ahead of time that it would get rough. They had to hold the debate in a parking lot because the dump trucks full of dirt couldn't get through the door of the studio.
Occupy Wall Street protesters threw a smoke bomb over the White House fence and onto the South Lawn while protesting in Washington Tuesday. There were no arrests. As long as you want to bring down capitalism the White House attitude is, boys will be boys.
ABC News found Mitt Romney pays fifteen percent tax on his investment income. He is doing the best he can. He only makes fifteen million a year, he can't afford to support the Mormon Church, all his children, all of his father's wives and the Federal Treasury, too.
Mitt Romney fended off charges by Newt Gingrich and Rick Santorum Thursday. The poll numbers barely moved. Day after day, week after week, month after month and year after year, Mitt Romney stays at twenty-five percent like it's a rent-controlled apartment.
NASA scientists disclosed that the Earth was pelted by rocks in a meteor shower that broke away from Mars last year and hit North Africa. The Palestinians were upset. They had been praying for Allah to throw rocks at Israel and he didn't adjust for the wind.
The Pentagon sent troops to East Africa last week supported by U.S. military forces in Saudi Arabia. U.S. troops in Iraq withdrew to Kuwait who are covering U.S. Navy off Iran. Apple just came out with a new app that tells you why our troops are in any country you click on.
AT&T's National Pro-Am asked Tim Tebow to play with Tiger Woods at Pebble Beach next month. He's wanted as an endorser, a broadcaster, and for golf tournaments. The Riviera Hotel in Las Vegas just asked him to join the Legends show as a Jesus impersonator.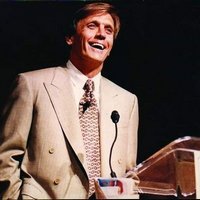 Latest posts by Argus Hamilton
(see all)