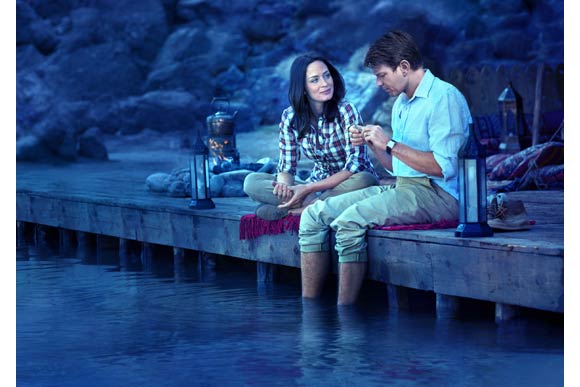 "Salmon Fishing in the Yemen" — A film review by Gary Chew
"Salmon Fishing in the Yemen" is a movie about fishing that's not about fishing. In fact, it's a good deal like another Lasse Halstrőm's film, "The Cider House Rules," even though each film has a story totally unlike the other.
Go figure.
Hallstrőm has his main characters (from Paul Torday's novel and Oscar-winner Simon Beaufoy's screenplay) in this 2011 film living in a contemporary world much like it is, except that those characters, although not perfect, are wholly decent.
Yes, "decent" would be the right word to describe them. Characters with such decency also appeared in Hallstrőm's "The Cider House Rules."
Decency wears quite well, so this fishing movie that's not about fishing plays more than just well because it is replete with humorous dialogue and hilarious circumstances while being smart and political as it gently wafts a moving message right to the heart, via the brain…Not always a route taken for delivering a message.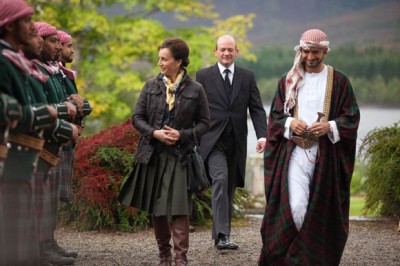 The Afghanistan War is not wearing well in England. Some news must be generated to perk it up a bit for the Brits. Patricia Maxwell (Kristin Scott Thomas) is the head man for the British Prime Minister. Patricia can do anything, and says just about anything, even to her children.
Over in the Fisheries and Agriculture Department, she brashly recruits salmon expert and avid fisherman Dr. Alfred Jones (Ewan McGregor) to sign on to work a high priority project with Harriet (Emily Blunt).
Harriet's string of last names takes up an entire paragraph, so we'll just go with Harriet. She is a bright mover and shaker in a distinguished London investment firm.
Sheikh Muhammed (Amr Waked) is a very rich Yemeni and important client Harriet's firm must tend to. Muhammed wants to transport British salmon to the Yemeni River so that he can fish for salmon there and not just in Scotland, where one of his many estates is located.
Since he is so wealthy, everyone, after a few days' time, thinks it's a marvelous concept to have salmon jumping upstream and being caught by Muhammed and his people in Yemen.
Requirements for such a unique concept take lots of money — no problem for Mr. Sheikh, but there are domestic complications for Dr. Jones and his wife, Mary (Rachael Stirling). She, like her husband, is a busy professional with challenges now presenting themselves in her career and must fly off for several weeks for business in Geneva.
Meanwhile, the unmarried Harriet has just met a really cool Captain in the British military. It's love almost at first sight. Unfortunately, soon after their meeting, Captain Mayers (Tom Mison) is deployed to the Afghan strife.
Harriet promises to wait for him… "wait" being defined as a term commonly used in American war movies of the Forties.
Off on the salmon transmigration project go Harriet and Dr. Jones with Patricia in the wings, from where, at appropriate moments in the film, the chances for eliciting hearty chortles run high.
"Fishing" was shot in London, rural Scotland and Morocco. Breathtaking might be the best way to describe landscapes Hallstrőm puts in his picture.
Most impressive is how the cast performs. If Scott Thomas had more face time, the movie would be hers. McGregor's acting chops are fully fine-tuned. This guy is really good. Emily Blunt is strikingly perfect in her part. Amr Waked is sort of a lower-key, less amorous, technicolor Rudolf Valentino.
"Salmon Fishing in the Yemen" impressed me most, though, with its heart and spirit. I hope Hallstrőm's relevant film can accomplish what it seems to me is, making it possible for more of us to get a glimpse of the forest and the trees at the same time.

Latest posts by Gary Chew
(see all)