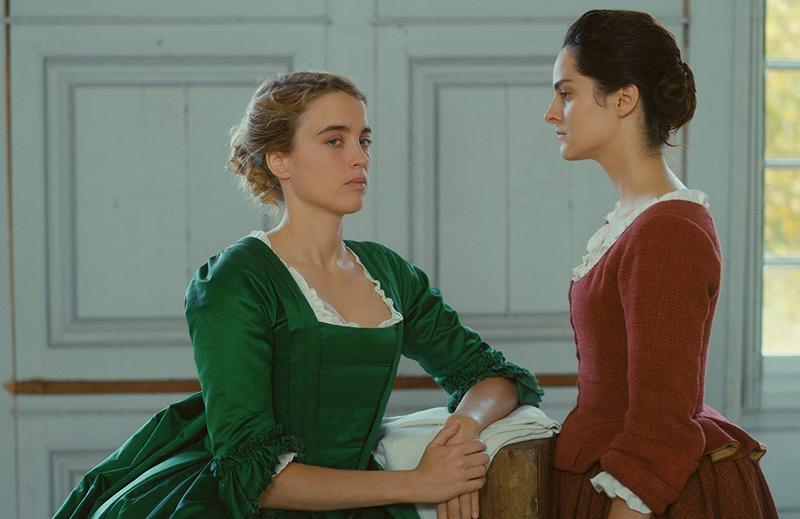 "Portrait of a Lady on Fire" — a film review by Gary Chew
Céline Sciamma is a French film director just in to her forties and totally out as a lesbian. Her fourth film, just opening locally in Sacramento, is called Portrait of a Lady on Fire. It was well-received last year at Cannes and also got a Golden Globe nomination.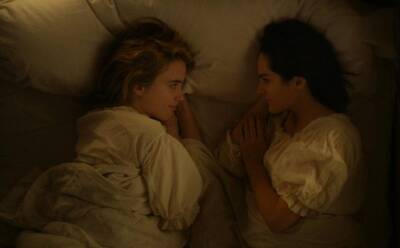 Sciamma has set her story near the end of 18th century on an isolated island of Brittany or Bretagne. The main characters are Marianne (Noémie Merlant) and Héloise (Adéle Haenel). Marianne, an artist being commissioned by a noble family, has come to paint a portrait of Héloise. The painting will then be given to a well-off gentlemen of Milan.
Héloise's mother is to present the work to her daughter's prospective Italian husband as the initial step toward their tying of the knot. But Héloise doesn't want to be a wife. She's never met the Milanese man, having just been extricated… so to speak… from a convent. Remember, Sciamma has drawn her audience back to the late 1700s. A young woman's input, then, as to what path her life might take was in the zilch zone.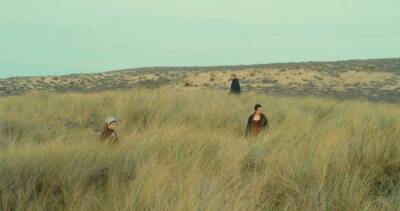 Héloise is naïve, yet very perceptive. Marianne brings Héloise to a more focused understanding of literature, reading to her the myth of Orpheus and Eurydice. This conjures up a debate between them as to why Orpheus turns around to look at his wife, thus … losing her. This works as a sort of ghostly conclusion to the picture that's accompanied on the soundtrack by a piece of music heard earlier.
Marianne also gives the bride-to-be a striking example of how music, other than that heard from thunderous church organs played at Mass, affects human emotions. Marianne, with little technique, plays a few measures of Vivaldi's Four Seasons on a clunky harpsichord for Héloise, who even then inquires if Marianne "has known love."
Disguised as Héloise's aide for walks on the beach, Marianne covertly makes sketches of her subject to use later in finishing the full portrait in the privacy of her apartment. It's along the rugged shoreline, surrounded by huge rock formations, where the women experience their first kiss together. Although a bit of upper-torso nudity and artful suggestion is seen in the film, "trash" is not employed.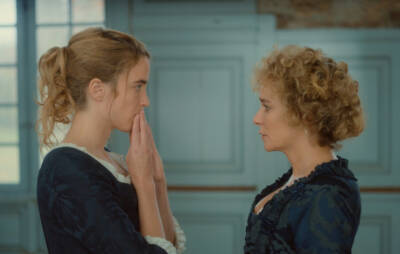 Héloise's mother has taken a few days to be in Milan. The Countess is soon to return to France expecting the completion of the portrait. During this time, the younger women have fallen deeply in love and are greatly spirited by this new adventure that's come to be. Only Sophie (Luàna Bajrami), the house maid, is aware of the blossomed relationship between Marianne and Héloise.
Sophie tells the other two she believes she's pregnant by a local man. This gives Sciamma's script an opening to state the director's position on the pro-choice/pro-life stand-off more common in the United States than in France and on the European Continent. Again, no unsightliness is brought with the dilemma that Sophie faces. Yet, the scene brings the sudden appearance of a small child on the bed where Sophie is being treated. It plays as somewhat of a leavening effect Sciamma has staged to suggest the script is not anti-child in some sort of strange fashion. It would be a good question to ask her.
Needless to say, conflict floods the final act. Epithets are shouted, and tears are shed as Portrait grinds to a exceptionally moving finale. If there was ever a movie that should not be spoiled by talking about how it concludes, it's this one. Just a clue though: if you were reading this story, in lieu of watching it, you really need to pay attention to what's on page 28.

Latest posts by Gary Chew
(see all)