Imagine, if you would, an episode of the old PBS Program "Meeting of Minds" in which the former President meets with Robin Hood.
In a recent "700 Club" interview, Sunshine State Gov. Ron DeSantis (from the Latin, "Sanctus," "holy") said he wished he could have been part of "Christ's inner circle" so he could have talked with the "guys" — Peter and John, especially.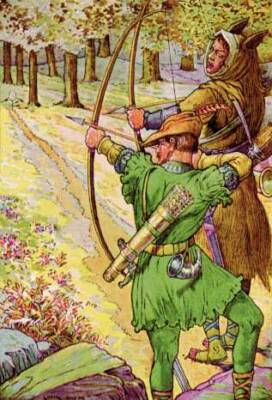 He had high praise for Peter as a fisherman with whom he would have loved to hang out on the shore of the Galilee while waiting for a tug of the line. He also expressed admiration for George Washington with whom he would have wanted, I think, to share a rod.
I'm not convinced the Apostle "guys" would have welcomed Ron, at least on a first name basis, not having heard about the Fountain of Youth and the restorative powers of Pina Coladas, even though they doubtless would have encouraged him to "have a good one."
They would have been too compassionate to inform him that the date-palm enclosed cove where the disciples met was not at all like a Harley Davidson clubhouse or even the locker room of an Ivy League Eleven, as much as they would have respected his Yale-Harvard education.
As for George Washington, I don't think he crossed the Delaware during Christmas in 1776 to surprise the Hessians at Trenton so that his "guys" would be able to hang with the spiritual gang where the Jordan flows into the Sea of Galilee.
The First President's most profound commitments were non-denominational, and his visit to the Touro Synagogue in Newport, R.I. (1790) is a shining example of his ecumenism. The rays of his enlightenment required no sunscreen.
But I can understand why the Governor of Ponce de Leon's old haunt would want to hang, so to speak, with John and Peter, and it reminds me of the late Steve Allen's ingenious PBS Program (1977-1981), Meeting of Minds, in which one or two important figures from different historical periods would be interviewed by Steve and chat with each other: Aristotle, Dr. Sun-Yat Sen, Emily Dickinson, and many other worthies.
It occurs to me, given the Governor's desire to break bread with the apostles, that it may be time for a revival of this award-winning program in which he and fellow Extremists (not a rock group) might exchange what they think of as ideas with the Greats and actually learn something.
I imagine an episode in which the former President meets with Robin Hood on the 18th hole of the Sherwood Forest Golf Course (there is one).
Robin might say to the Former, "It's about time we met, you would be surprised to hear how much we could have in common. With just a few changes, I could be your V-P, great ticket."
"Great, really great, love the way you stuck it to fake King John, a real loser, no lion-heart, a pretender, doesn't deserve the golden privy, I'm listening, love you, really love you."
Steve: "This is where it may get interesting, folks, as in folklore" (canned laughter).
"On the positive side, you've got your Big Mac, I've got Big Friar Tuck, you've got the lovely Lady Melania, I'm shtuping fair Maid Marian."
"Shtuping, love it, Old English?"
"Yiddish."
"Love those little guys in skullcaps, don't get me wrong, never saw a bagel I didn't like."
"But here's the deal, Sir Donald, Lord of the Greens, before you can sit at the Round Table (the one my Merry Men stole), I'd urge you to make a few changes."
"Great, I love making change, the shmucks send it every time I call out for help from The Tower!"
"It's simple, Sir Guy, if I may, just reverse the equation: stop stealing from the poor and giving to the rich."
"Yo, bro, It's the art of the steal, takes skill like archery."
(Robin Hood looks at audience and chuckles): "Isn't it You (he pauses), as in Yoeman?"
Steve: "Well, folks, it's time for a break before Sir Guy smites Robin Hood on his Kettle Hat Helmet with a 9-iron, and so another episode…'
The Former: "I'm classifying this program, I can classify and declassify anything, ask Merlin, ask the Keepers of the Oath, the Proud Boys of Nottingham, I can make any document appear or disappear, I almost have done it with the Constitution, I can…I know I can…I want my broker…"
A paramedic appears behind the Former. Steve sees him, looks at camera, makes a cut gesture across his throat): "That's it, folks, see you next week when Clarence Darrow meets defrocked Friar Roy Cohn in a discussion of Magna Carta."
The wheels of a gurney are faintly heard.
---
Howard R. Wolf wrote an undergrad thesis at Amherst College on Sir Gawain and the Green Knight and studied the Great Vowel Shift of 1250-1300 at the University of Michigan (Ann Arbor) where he won a Hopwood Award for Short Fiction and his daughter Alexis was born. He doesn't have a Green Thumb, but his small lot in Amherst, NY is as forested as it can be athwart the near castles of Williamsville (named after William of New York).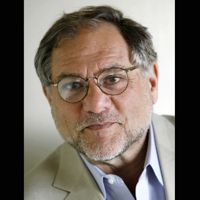 Latest posts by Howard R. Wolf
(see all)