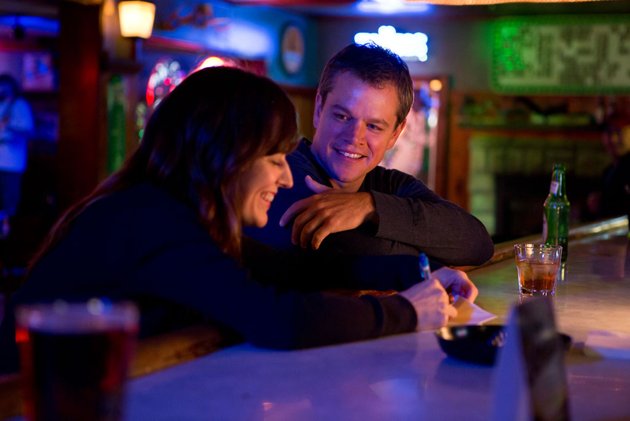 "Promised Land" — a film review by Gary Chew
"Promised Land" is not an effort to revive big screen bible epics. The land promised is that which is likely to have millions of dollars worth of natural gas submerged in it. The people who own the land are being paid to promise (sign on the dotted line) that what lies below goes to a large natural gas corporation.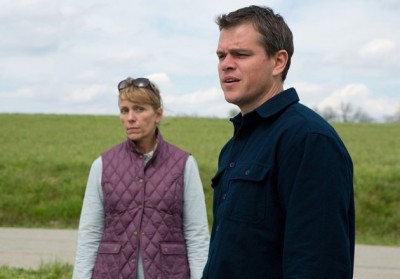 That's where Matt Damon and Frances Mc Dormand come in. As Steve and Sue, they're salespersons of a global-sized gas company. Their job is to persuade locals who live in natural-gas-rich regions that allowing the energy firm to bring up what's locked in the rock will make property owners wealthy. Extracting natural gas this way has come to be called, "fracking."
Times has been hard in rural Pennsylvania, so getting small town residents to sell drilling rights to such a company seems like an easy task for Steve, originally from rural Iowa, and Sue, who lives with her husband and son in Houston.
"Promised Land" opens with Steve taking a luncheon interview for a higher position in the kind of works he does. Then he heads off to McKinley, Pennsylvania and meets up with Sue for their next project: getting more signatures from struggling landowners in a lovely, rural natural-gas-rich part of the Keystone State.
Things have changed a lot in the small town. But it's still inviting. People are nice and honest … and financially slammed. There's the too hip gas station, gun shop and grocery store owner, Rob (Titus Welliver), who appears to be more a guy who might live in Philadelphia than McKinley. He's just too smooth and urban to believe.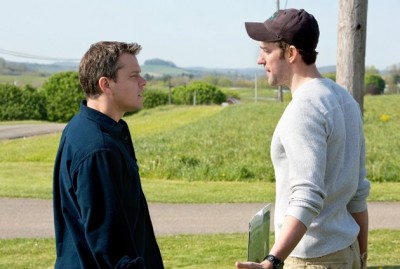 Alice is a local elementary school teacher played perkily by Rosemarie DeWitt. She's single and has returned from the city to live in her dad's place following his death. Her hipness can be attributed to doing the big city for awhile.
The venerable Hal Holbrook is a local high school science teacher named Frank. It comes out that Frank is a learned academician with MIT and Cornell on his resume, and teaching for kicks in McKinley. This geezer could retire.
Shortly after we get to know Steve and Sue and follow their routine chatting it up with local property owners, Dustin shows up in his Athena pick up. John Krasinski has the role. The environment is at the top of Dustin's agenda; Athena is an environmental group. Around the town Dustin goes, undoing the stoking Steve and Sue have initiated.
This is after Steve runs into Alice and engages her in conversation over a beer at the local pub. Alice seems interested in Steve, and vice versa, but for me … and I know a few things about small towns …
I don't remember any of my female school teachers being known for hanging out at the only bar in town, flirting with local guys as well as strangers just in from Iowa on business.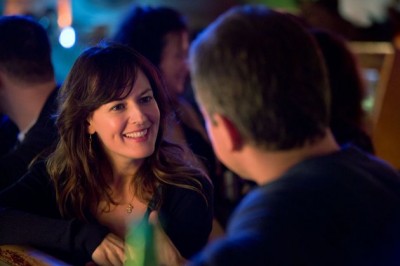 A town meeting about fracking takes place in the high school gym with a town politician running it. This comes after the local politician and Steve have a brief visit in the diner down the street, and Steve promises the pol a piece of the action for supporting the natural gas corporation's fracking  in the McKinley region.
During the meeting, the eldery Frank takes an adversarial position on fracking.  He asks pointed questions of Steve. (That's just before we find that Frank has several letters after his name.) Steve could be quicker on his feet in the Q and A, as the basketball team waits for the local residents to clear the gym so the boys can practice.
Furthermore, Steve, or maybe script, has trouble with his motivation, and his values seem to contradict themselves. It's tricky trying to figure his priorities for being in McKinley: to make lots of money for himself or deep concern with small town, rural people (like himself) getting out of their money fix.
The competition between Steve and Dustin thickens when Steve spots Alice hanging with Dustin at the pub. Moreover, Dustin is making time with townspeople as about the downside to fracking and what he says can do to their land and water as well as their long term health.
Directed by Gus Van Sant ("Milk," "Good Will Hunting"),"Promised Land" plays much like a made-for-TV movie that would likely never see the light of day on a mainline commercial television network. The politics are hot stuff as the film shows in this neck of bucolic Pennsylvania woods, not to mention (of late here) in California. HBO … the wealthy liberal network … would be a more likely platform for it to show. You'll just have to buy a ticket at the cineplex, or wait for the DVD release.
The film is simplified and inoffensive except, possibly, for language. The story is by Dave Eggers, who co-wrote the delightful "Away We Go" that starred Maya Rudolph and Krasinski.  He and Damon wrote the "Promised Land" screenplay.
As important as getting more word out about fracking might be, "Promised Land" is not quite all it's fracked up to be.

Latest posts by Gary Chew
(see all)