"Tom the Dancing Bug" Cartoon Gallery
Click on any thumbnail in the "Tom the Dancing Bug" Cartoon Gallery to enlarge, then you may browse through cartoons, run the slide show or return to gallery.
From Wikipedia:
Tom the Dancing Bug is a weekly satirical comic strip by cartoonist and political commentator Ruben Bolling that covers current events from a liberal point of view. The strip appears in mainstream and alternative weekly newspapers, as well as on the Boing Boing website. Tom the Dancing Bug won the 2007, 2008 and 2009 Association of Alternative Newsweeklies Awards for Best Cartoon. In 2011, the strip was awarded the Sigma Delta Chi Award for editorial cartooning by the Society of Professional Journalists.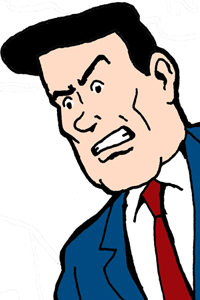 Tom The Dancing Bug has no real narrative continuity. Some individual strips are one-shot "stand-alone" presentations, but certain recurring features within the strip are seen regularly on a rotating basis. One of the most popular recurring segments, "Super-Fun-Pak Comix", appears roughly once a month and is dealt with in a separate entry, below. Other features currently seen on a fairly frequent basis include:
God-Man: The Superhero With Omnipotent Powers!: Placed in normal superhero situations, God-Man fights villains like Nietzsche-lad, Dr. Moral Relativism and Blasphemy Boy. God-Man's "mundane identity" (when he does not want to attract suspicion) is Milton Baxter. God-Man occasionally solves problems by re-creating the universe and organizing the atoms so that the problem is prevented in the first place. Bolling, speaking in an interview about readers who take offense to the God-Man strips, said "God-Man isn't actually God. He is a straw man that I'm using to make fun of some people's very simplistic views about religion and philosophy." Billy Billings is "God-Man's Pal", a parody of Jimmy Olsen.
Lucky Ducky: The Poor Little Duck Who's Rich In Luck, is a recurring segment purportedly presented by Wall Street Journal Comix. Lucky Ducky is an anthropomorphic duck who despite being homeless, destitute, and working in a crummy job always manages to enrage his nemesis, the very wealthy Hollingsworth Hound. Hollingsworth (who usually has a much more prominent role in this segment than the title character) views any source of joy or happiness in Lucky's life to be too much of an advantage, and does his best to eliminate it, claiming that the joy or happiness is coming at the expense of the very rich, like himself. Lucky Ducky first appeared after The Wall Street Journal editorialized against progressive tax policies, calling poor workers "lucky duckies" because they have a smaller federal income tax burden. Hollingsworth Hound has also occasionally been seen in solo adventures.
News of the Times parodies current events, in a fashion somewhat reminiscent of March Of Time newsreels.
Judge Scalia is an extremist version of the U.S. Supreme Court justice Antonin Scalia, used to criticize Justice Scalia's Supreme Court opinions and overall judicial philosophy.
The Outer Reaches of Plot Twists parodies The Twilight Zone and Outer Limits, showing stories that use multiple plot twists to the point that suspension of disbelief is difficult to achieve.
Did You Know? points out "Fun Facts" in all sorts of things, poking fun at statistic-and-tidbit-obsessed society. The cult of celebrity is also a frequent target, with subversive trivia such as Nicole Kidman had to work as a waitress before she became famous, and not a single person asked her for her autograph and claiming that the Universe has never been nominated for an Oscar.
Harvey Richards Esq., Lawyer for Children is about a lawyer who works for children by using the standard children's tricks for getting out of things or getting people to do things ("My fingers were crossed!" "I called no crossies!"). The point is that lawyers act an awful lot like young children. The character has been optioned for a feature film by New Line Cinema, to be co-produced by Universal Press Syndicate's AMUSE division.
To see more of our extensive collection of professional cartoonists' work, visit our Political Cartoons sampler, our political Cartoon Galleries, non-political Single Panel Cartoons and our International Political Cartoons sampler. If you like to draw, you may want to submit a cartoon to our User-Created Amateur Cartoons page. If you'd like to try your hand at captioning cartoons, check our Cartoon Caption Contest.
Check out our Funny Videos gallery as well, our humor columns, and of course, our own fake news stories by various authors.
Enjoy, and please use the share buttons below to share with your friends, family and co-workers. Thank you!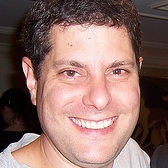 Latest posts by Ruben Bolling
(see all)