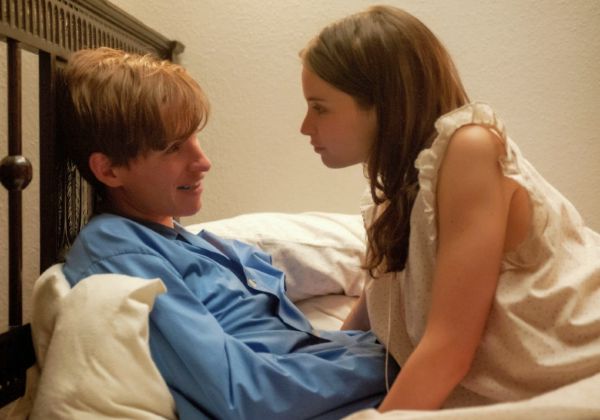 "The Theory of Everything" – a film review by Gary Chew
The biopic genre is commonplace. How many movies have you seen this year that were promoted as being based on a true story? Two of the most recent films I've seen make that boast: Rosewater and Foxcatcher. This review is about another new movie that's taken from real events.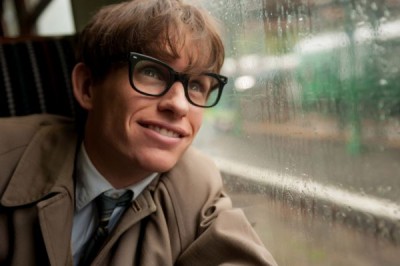 The Theory of Everything is about Stephen Hawking, the noted theoretical physicist. But it's more about his former wife Jane, who wrote a book about her time spent with this extraordinary man stricken by a motor neuron disease.
The couple met at Cambridge University prior to Hawking coming down with ALS, or Lou Gehrig's Disease. As you likely know, Hawking has weathered his malady quite well … by not dying. He's still kicking, so to speak. And that is so neat. Bravo, Professor!
Theory slips through highlights of the Hawking's life together much like A Beautiful Mind (2001) did for John and Alicia Nash. Following the onset of ALS, Jane won't walkout on Stephen. They marry and have children while Professor Hawking is physically disintegrating, but still advancing theories about the universe, black holes and the ever popular space/time singularity.
Hawking (Eddie Redmayne) suffers more and more from his malady, but Jane (Felicity Jones) is utterly overwhelmed taking care of her invalid spouse and their young children. How many years go by is not made clear, but eventually Jane's mother (Emily Watson) thinks her daughter needs some time for herself, and suggests Jane return to the church choir for musical R & R. Jonathan, the choir director is a most kind young man and mourning the recent death of the woman he loves. He offers to help Jane with all she must do for her children and Stephen as well. Jonathan (Charlie Cox) makes the offer … in part … for his own therapy. But he is quite taken with Jane too.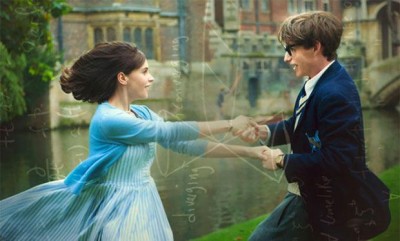 Theory continues with the Hawkings attempting to withstand the strain of Stephen's notoriety and his terrible affliction. The script pleasantly reveals the indiscretions that ensue even though both the Professor and his loyal wife show admiral grace to one another. Albeit the couple is bonded and in love, Hawking is an atheist and Jane is a believer. It's refreshing to see this on the screen in hopes it might accurately reflect how two people handled the difference each perceived the world … and might influence those who see The Theory of Everything. Staged violence and gore that floods movie houses everywhere much of the time is even more commonplace than biopics.
Some are now tossing out the annual comments about Oscar bait. The Theory of Everything is getting a lot of that. Conversely, the performances in it, for me, are not outstanding. Jones is lovely and well cast, but a tad too mannered and forced with Jane's body language. Redmayne is spot on, insofar as looking like the authentic Hawking, but his recurring flashing of a faint smile doesn't wear well. The toothy grin he flickers so often — before and after onset of the illness — may cause you to wonder if Redmayne needed to find something else to go to. He appears in nearly every scene. Maybe a subtle roll of the eyes.
In the good natured back-and-forth between a man who doesn't believe in God and a woman who does, I was taken back to the delicious conflict between television's Fox Mulder and Dana Scully when they searched for the Truth that surely had to be out there somewhere; not unlike developing a theory of everything.

Latest posts by Gary Chew
(see all)