Interview with editorial cartoonist Andy Donato
Although the comic strip, "Terry and the Pirates," is long gone, it was most pleasant to learn that the Toronto Sun's editorial cartoonist, Andy Donato and I share the same affection for Milt Caniff's brilliant work. Donato discovered 'Terry' as a youngster, while I not only enjoyed the strip as a kid in the Bronx, but had the good fortune to spend a wonderful afternoon interviewing its creator one sunny afternoon in his New York City studio.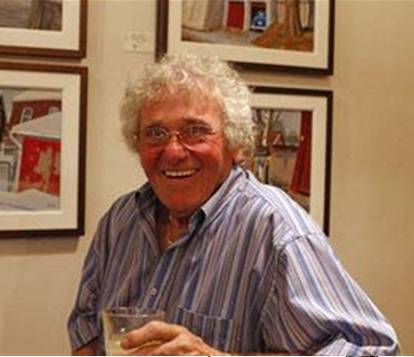 Another fond memory of Donato's is a cartoon he did during one of our many crises with Iran and its Ayatollah Khomeini. It depicted a Marine shoving an American flag up the backside of the American-hating fanatic, the Ayatollah. It remains Andy's favorite cartoon to this day (and seems like it could be one of mine as well).
Ever the realist – after all, he does deal on a daily basis with the sins and ills of the world – Donato says that there's not much money to be made out of drawing these days. But he feels that the art of cartooning has a future on the Internet as soon as the powers-that-be can figure how to make money from it.
And despite today's shrinking newsprint opportunities, Andy remains optimistic, telling young cartoonists to, "pursue the career even though the game is changing – you just have to think of new ways to perform."
It was a pleasure to learn that Andy Donato's family encouraged his early efforts. And evidently his friends did too, since he firmly believes that if they could see him now, they'd be unanimous in saying, "Good for you!" Though he's somewhat wistful as he recalls his childhood, when, he says, he "missed a lot of fun." His parents owned a grocery store and needed his help on a daily basis. Still, they recognized his budding interests and talent, too, and – he tells us gratefully – "allowed me to go to night school as a 13-year old to learn oil painting." He also fondly recalls a regular customer Lloyd Peters, a fine commercial artist who, "showed me how a professional works."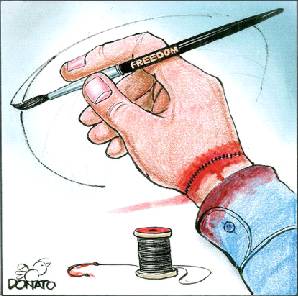 It may be the Italian connection, but the one artist from the past he's love to have a conversation with would be Michelangelo. What would he like to talk about with this great master? "Everything."
Lest one think Andy Donato is just generally appreciative of the support of those who taught him, he named names, too: Vince McGill and Fred Savard at Danforth Tech (his high school in east Toronto) and even Mrs. Long and Mr. Thorpe way back in public school.
The pun's intended here, but Andy draws inspiration from just reading the news all the time. And his cup continually gets refilled, sometimes irking him in a such a way that his art reflect his anger. That, of course, has led to some run-ins with lawyers, rather than editors, more than a few times (he thinks at least 35-40 so far). He has a real fondness for his fellow artists too, since the only book he'd take on a long long trip is The New Yorker's Rejection Collection.
His most satisfying artistic experience is a recurring one: when Andy Donato is doing his cartoons on a daily basis. Not even a little retired, at 76 he still draws for the Sun syndicate regularly and says there's nothing in his career or full life (including serving as President of the Association of American Editorial Cartoonists in the '80's ) he would change or "do over." In fact, one of Andy's trademarks is a signature Donato bird which to this day "gets lost" in the paper; finding it is still a favorite pastime of Sun readers.
I asked him about low points in his career but he only hinted at something in 1967, so it's been as he said he'd tell well-wishers years in the future, "it's been one helluva ride!"
Let me conclude with the following thought: in all kinds of weather, it will always be sunny in Toronto as long as Andy Donato is sharing his talents. That said, how could one not appreciate a fellow who states, unequivocally, that if he couldn't be who he is, he'd be happy to jump into the skin of Tiger Woods. After all, that way he could indulge in his two loves, "golf and women!"
Latest posts by Stanford Chandler
(see all)