Making fun of the headlines today, so you don't have to
The news doesn't need to be complicated and confusing; that's what any new release from Microsoft is for.  And, as in the case with anything from Microsoft, to keep the news from worrying our pretty little heads over, remember something new and equally indecipherable will come out soon.
Really all you need to do is follow one simple rule: barely pay attention and jump to conclusions.  So, here are some headlines today and my first thoughts:
Spokane NAACP President's Mom says daughter pretending to be black
Looks like in Spokane, 'Orange Spray Tan is the New Black.'
Malaysia Airlines jet makes emergency landing in Australia
Seems it's now news whenever a Malaysian Airliner actually lands.
Scalia commencement speech: Humans have 'been around for, at least, some 5,000 years'
In fairness, it was a happy birthday shout out to the other members of the Supreme Court.
Box Office: 'Jurassic World' crushes
So, you can go see 'Jurassic World' to see a movie about dinosaurs come to life. Or, you can just stay home and watch FOX News.
Jerry Seinfeld: 'Today's college students are too PC to get comedy'
Looking forward to Jerry's new web show, 'Comedians in Cars Yelling at College Kids to 'Hey, Get Off My Lawn.''
Rick Santorum finds only one voter waiting at Iowa campaign event, warns her about gay marriage
And, just to be safe, not to order rainbow trout.
'Flintstones' theme park up for sale in Arizona
Some politicians in Arizona consider it a futuristic park.
G7 warns Russia of more sanctions, pledges climate action
Also, asks for people to not scream 'Bingo' when someone says 'G7.'
Obama attempts to mend relationship with Germany at G7 summit
After listening to Merkel's cell phone, NSA reports it's working.
New era in physics as world's biggest particle smasher cranks up
While the world's most smashed person remains Charlie Sheen.
Kim Kardashian says she has a major surprise ready for Kanye's Birthday
Kanye, hope it doesn't involve appearing on Maury Povich.
A car registered to Patriots' linebacker Brandon Spikes was found abandoned
They knew it was a Patriots' car cause the tires were deflated.
Angelina Jolie and Brad Pitt fly coach on Air France with their kids
Surprised they didn't need more than one plane.
Reporters evacuated by Secret Service from White House press briefing room
Guessing the Secret Service saw there was no booze or hookers.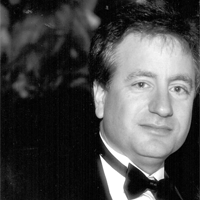 Latest posts by Paul Lander
(see all)