A huge Rambo fan, Pope Francis is a religious renegade of sorts
In the words of Father Thomas Rosica, the press secretary for the Vatican, "This is the going to be the defining moment of 2015. It's going to be bigger than Jurassic World, Mayweather v Pacquiao and the return of The X-Files … combined."
What is Fr. Rosica referring to? The much anticipated papal letter, of course. Calling for an end to the 'unmerciful' exploitation of nature by mankind, the letter will be published in five languages — English, Spanish, Chinese, Arabic and Klingon. According to the press secretary, "We can no longer pray global warming away. We have tried and tried. The 'Big Man' isn't listening."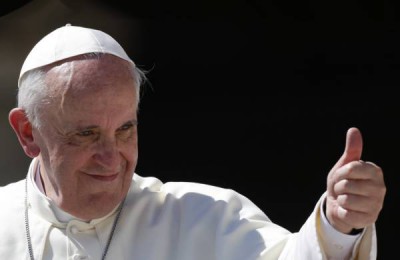 A huge Rambo fan, Pope Francis is a religious renegade of sorts. This letter is guaranteed to anger certain Republicans in America.
Commenting on the pope, Mike Huckabee, the self-confessed 'child molester confidant,' said this: "By endorsing the warnings of climate scientists and admonishing Biblical beliefs, this pope might not make it into heaven."
Peter Turkson, The cardinal and president of the Vatican's Pontifical Council for Controversial Statements, is responsible for launching the encyclical. A close ally of the pope, Turkson and 'Frank' regularly spend time together, once devoting a full weekend to the 'Breaking Bad' boxset, "we hope to watch Better Call Saul soon," said the Ghanaian.
In a recent speech called the 'encyclical entrée,' Turkson said: "Too many people live in poverty, despite abundant resources, only the privileged global elite enjoy the finer things in life. Our world is steeped in stupidity and ignorance, Caitlyn Jenner and Kim Kardashian are the most Googled names of 2015. Young adults think of Michelangelo and Donatello as Teenage Mutant Ninja Turtles, not as the catalysts behind the High Renaissance."
The Argentinian pontiff gave a teaser of what to expect: "Isn't humanity committing suicide with this indiscriminate and tyrannical pollution of our planet? Do people driving Hummers know how stupid they look? Really, you need such a monstrosity to drop your kids off at school."
The encyclical will cover issues outside of environmental concerns, say Vatican insiders. "It will address many diverse issues, we're talking questionable fashion trends, we're talking the supersize eating culture in the U.S.                   Millions of people are starving around the world at the same time as Joe '3 Chins' bites into two quarter pound patties, covered in all sorts of toppings and sauce," Pope Frank told Pray 24/7, the Catholic PPV channel.
The rare encyclical, called "Let's Be Frank," has been timed to have a dramatic public impact ahead of Pope Francis' meeting with President Obama.
Latest posts by John Glynn
(see all)