The new Pokémon Go smart phone app is jeopardizing one of the year's biggest events — the Olympic Games.
Unless you have been in a coma for the last few weeks, you're probably well aware of the new craze that's sweeping the world: Pokémon Go.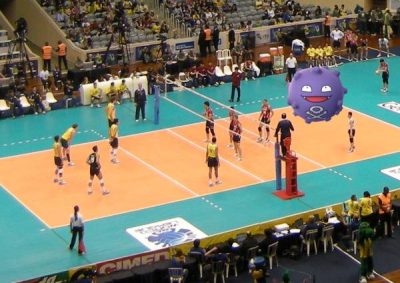 Pikachu and his pesky pals aren't just blowing up your Facebook and Twitter feeds, the bastards have even tricked everyone into exercising more, and it's no mean feat to get an average American up off his butt and outside running.
But now the app is jeopardizing one of the year's biggest events — the Olympic Games.
Besides the threat of Pokémon Go monsters showing up at Rio Olympic sports venues and interrupting the action — not to mention monopolizing the fans' attention as they try to capture them — athletes, too, are occupied with the craze, and opting out of the competition.
The sport of golf has waited over a century to get back into the Olympics, but the highly-anticipated return my be jeopardized. The top four golfers in the world have decided they'll wait a bit longer to compete in the Games.
---
Related story: the Zika virus itself plans to compete in the Olympics, and threatens to "destroy the competition."
---
Jordan Spieth is the latest big name to pull out, with the superstar delivering the final blow on Monday morning.
After the International Golf Federation asked why he would not be going to Rio next month, Spieth said that he had new, unforeseen commitments. When asked if this was a polite way of saying he was consumed by "Pokémon Go," the American looked up briefly from his app and replied "yes."
Jason Day, Dustin Johnson and Rory McIlroy previously withdrew, initially blaming the Zika virus, but later citing their obsession with "Pokémon Go." Day and Johnson have said they plan on devoting theirs summer to the app, while McIlroy, who recently got engaged, said he would try his best to balance wedding preparations with his new obsession.
Based on Monday's world rankings, eighteen eligible men have withdrawn from the Olympics — thirteen because of Pokémon.
The women, on the other hand, only had one player withdraw because of the app. Lee Anne Pace of South Africa has moved to Hawaii to roam the beaches and chase Squirtle, according to her agent.
"There is no doubt that Pokémon has devastated the world of golf, and we must accept that fact," said Carlos Arthur Nuzman, the chairman of the Brazilian Olympic Committee. "But we do understand why these individual decisions have been taken. Initially, I abhorred the idea of Pokémon, however, after downloading the app this morning, I've changed my mind. I caught that feisty little bastard called Pidgey after five minutes."
Golf pulled many a string to get back into the Olympics, and Spieth, up until very recently, was among the most ardent of supporters. But, ultimately, according to the man himself, "God works in mysterious ways, and I know he wants me to pursue my dream. Golf can wait."
Latest posts by John Glynn
(see all)