CBS Sports anticipates huge ratings for Sunday's game with the Denver Broncos and New England because of Tim Tebow's notoriety. He's a celibate evangelical. Half the country likes to watch Tim Tebow get hit and half the country likes to watch him rise again.
Pope Benedict held up a Sony tablet and pushed a button to light a Christmas tree in Vatican Square. Ever since the church invested in Greek bonds they've had to accept product placement ads. Last Sunday six babies were baptized in the Vatican with Gatorade.
Tulsa police caught a woman cooking crystal meth in a local WalMart Thursday. She took the ingredients off the shelves and cooked it in a jar. When the meth got into the ventilation it increased sales more than cinnamon incense and Christmas music combined.
The NBA vetoed a trade Thursday that would have brought All-Star Chris Paul to the Los Angeles Lakers. He was flying to L.A. when he got the news. The Lakers had to cancel the press conference where Chris Paul was to receive his jersey and his Kardashian.
Newt Gingrich soared to a twenty-point lead over Mitt Romney in Iowa's presidential polls last week. He caught a break. Newt gained six points since Herman Cain dropped out of the contest, suggesting that serial adulterers make up a sizable voting block in Iowa.
President Obama hosted a Hanukkah party in the White House Thursday and lit every candle in the Menorah instead of one a night. Everyone just sighed. He plans to celebrate Christmas by shoving presents up the chimney and leaving them on the roof for Santa Claus.
President Obama put off his Hawaii vacation Friday until he and Congress can agree on how to extend payroll tax cuts. The president said he'll join his wife and kids later in Hawaii. Barack Obama has a plan to save the planet by reverse-carpooling with jumbo jets.
Iran revealed plans to sell to China the Pentagon's drone spy aircraft that crashed in Iran while spying on their nuclear reactors. We know how this ends. By next year we'll be able to buy the same spy plane from China for just one-fourth of what Boeing charges us.
Congressman Rick Larsen fired three House staffers who'd been tweeting they were getting drunk and watching YouTube videos at work. First Anthony Weiner tweeted nude photos and now House staffers are tweeting their drunken adventures. We can balance the budget in a week if we give everyone in Washington a Twitter account and wait for them to brag about a firing offense.
Mexico said Friday its security services foiled a plot by Moammar Kadaffi's son to enter Mexico illegally. You can't blame the guy for trying. He sought to live the Mexican dream of sending his kids to Texas to support him and having the money wired into his account.
The Pentagon announced the layoffs of nine thousand civilian military employees Friday through early retirement incentives and layoffs. It's high technology. On Capitol Hill computers took the House pages' jobs and they don't sue you when you watch them shower.
New Jersey former Senator John Corzine apologized to Congress Thursday for losing six hundred million dollars of investor money at MF Global. The firm had only dealt in commodities and then Corzine took them into securities. He explained he spent so much time in Congress and in the governor's chair that he bankrupted the business out of habit.
Prime Minister David Cameron flew home from Brussels a Tory hero Friday after he vetoed an EU treaty to rescue the Euro. It would have ceded British sovereignty to German banks. History shows if you say no to the Germans early enough, it saves a lot of buildings.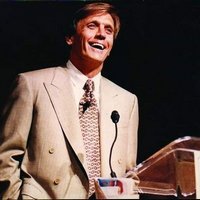 Latest posts by Argus Hamilton
(see all)