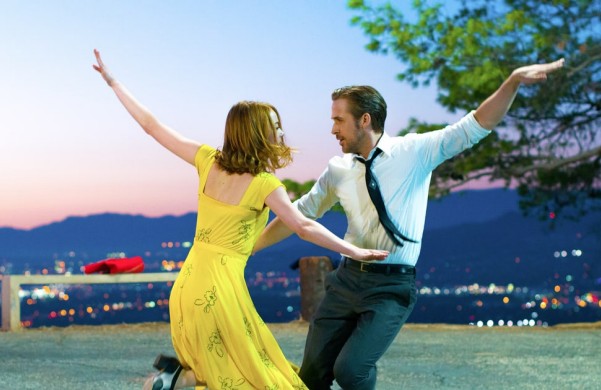 "La La Land" – a film review by Gary Chew
Sitting here at the dusty keyboard, my review of La La Land writes itself. Why, you might ask?
There are two reasons. I'm listening to all the music from this glorious film through the CD component of my old computer; and the other reason is: because I saw this marvelously fabulous, fantastic film last night. It is so fresh in my mind. And heart.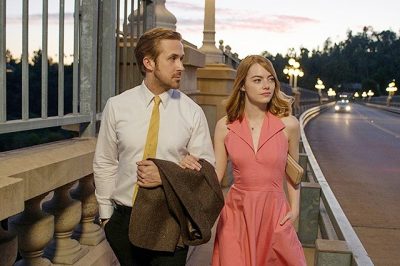 All the sturm und drang of contemporary life that deafens us to one another is totally obscured by this (here I go again) totally awesome movie that was directed by a 31-year-old guy from Rhode Island named Damien Chazelle. He also did another fine movie of a different kind in 2014 called Whiplash.
How La La Land can be beaten out by other films in next year's award extravaganzas is beyond me. I say that being totally aware that I am not your biggest fan of cinematic musicals. Go figure.
Before I go any further, the word "enchanting" needs to be put in this La La review. Oh! Now I know why: this movie reminds me of Francis Ford Coppola's old, unsung picture called, One From The Heart starring Terri Garr, Frederic Forrest, Harry Dean Stanton… with Tom Waits on trumpet.
That film wasn't so well distributed, as I remember. I saw it at a special screening back in the Eighties. It takes place in a completely staged Las Vegas, but shot on slightly smaller than scale magically realistic sets in Los Angeles. La La Land was filmed in and around the "real" Los Angeles, too, but using the "real" LA so well lit, you can't close your eyes. You did know that LA is in the heart of La La Land?
Ryan Gosling plays Sebastian, a jazz pianist scuffling mostly by playing stuff at cocktail gigs that puts him "to sleep." Seb digs Bill Evans and John Coltrane — pretty typical for good musicians. Mia is Emma Stone's character. She draws lattes at an LA coffee shop for get-by money. But Mia is also a struggling actress hailing from Boulder City, Nevada. Auditions and call backs are not numerous for her. Mia's been in the LA area probably as long as Penny, The Big Bang Theory heroine has.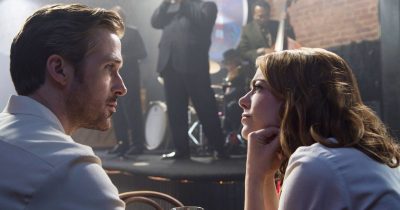 Exquisitely, Sebastian and Mia meet just after La La begins in a glistening Broadway musical sense atop an LA freeway overpass; it then proceeds through the scenes as their relationship is taking blossom and finally takes hold.
The singing and dancing, in fact, the whole completely choreographed part of this early segment of the film fairly shines and whisks you off you feet… sitting down. The script gets more serious as emotions grow stronger between the Seb and Mia. It's really Ryan and Emma who sing for themselves. So disarming. Plus, the ending will do more than just twirl you head 'round.
Wow, is the camera work something to see… as much as the music segues are to hear. Holy Louis Armstrong, there's great jazz music in it, too. Seb teaches Mia to love jazz. How nice. Production values and performances by actors and musicians are at the top of anyone's notch.
My only minor criticism is that during the first several minutes, the dialogue occasionally gets buried in background music or ambient wild sound. I'm guessing it to be a slight problem with how the mix was handled when the actors are speaking in quiet, short phrases just as, simultaneously, a ping or plunk on the music track swings by; or maybe, locally, a bit of boost on the volume in the theater. Unsure about that. Later on, speech becomes easy to understand.
Here's one to see more than once, or even twice. You might even want to buy the DVD when it comes out. And what fun it will be to see what kinds of wins La La Land brings off for all its cast and crew, who, I would bet more than a dollar, had an absolute ball doing this genuinely memorable film that takes you so far away from the din of life. See it!

Latest posts by Gary Chew
(see all)