Terror Suspect claims to be just a soccer fan, but suspicions remain
Exclusive Humor Times Special Report, by Isaac Blum
The following transcript was leaked to this reporter yesterday. It is from an FBI interview of a terror suspect who was pulled off a flight to London, where he and his friend claim they were going to catch a soccer match.
We're on our way to England to attend the big soccer match, not to bring death and destruction to millions of western infidels, through an elaborate and ingenious terror plan, under the guise of soccer fandom. My interrogation here at LAX is, I feel, unwarranted, and based solely on the anti-soccer prejudice of the CIA, FBI, and Darrell from TSA.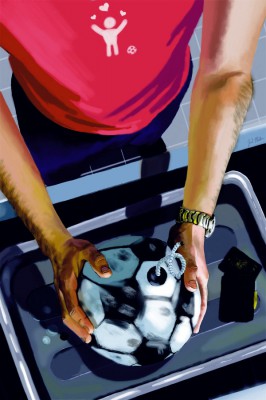 The flares were supposed to be used for goal celebrations, not to create a diversion for us to smuggle thousands of pounds of plastic explosives around the security censors, and onto one of those luggage carts that cost far too much to rent. And, really, when you consider the Roberto Baggio train derailment incident of 1993, the minor-to-severe burns sustained by Bernice of Delta Airlines seem rather inconsequential.
The banner appears worse than it is. "Death to the West, Burn Londoners Burn" refers to the soccer fans of west London, not to western culture in general, of which we're all big fans. Regarding the reverse side, "Liverpudlians 2," the "2" is not supposed to mean "also." We intended to follow it with the word "victory," however, Mahmud's sharpie ran dry at an inopportune time.
Oww! That electric shock was hardly necessary. I told you already, the letter from the Sheikh is as innocent as can be.
Oww! Yes, I know it looks bad when he says, "I wish you the best of luck in your forthcoming attack."
The Sheikh speaks in jest. He means more prank than attack. Seriously, you don't know him like I do. He's talking about endearing soccer fisticuffs, not mass murder using carefully placed bombs in the sewers of London, accessed through age old cracks on the Jubilee Line of the Underground, programmed to detonate at precise intervals using a very complex algorithm of linear discrete cosecant cohomological Fourier principles.
Yes? What about the detailed maps of both the London Underground and the London sewer system you found in my backpack? Public transit can be very confusing. Just the other day I got on the Orange County line at Santa Ana going, I thought, toward Union Station. But I was tired and I fell asleep, and when I awoke, I was in Oceanside at the pole opposite end of the line. And the next train back wasn't for 40 minutes. And I thought it was going to stop at San Clemente, but it only went as far as Laguna Niguel.
So I had to get off there, and by the time I got home, I'd missed the new True Blood. And because I'd thought I'd be home earlier, I hadn't asked my girlfriend to set the DVR.
Oh yeah, the sewer map. It came with the Underground map. It was a packaged deal. I even said to the guy, I said, "Hey, I only need to navigate the Tube. I don't need a sewer map, as I'm not planning any kind of intricate sewer-based terror operation." But he wouldn't sell them any other way.
No, I'd say, honestly, that Mahmud is unlikely to corroborate every part of my story. But it's not because either of us is untrustworthy. Mahmud is, frankly, a very nervous flyer, and he has taken a cocktail of Valium and sleeping pills that could kill a mid-sized bison.
Wahhoowwwww! These handcuffs are quite constricting, and much colder than I expected. Take them off. I'm begging you!
We're going to miss the game: the excitement of passes and kicks and goals, and alcohol, which we drink often. Please, let us go catch our plane. Kickoff tomorrow is in the early afternoon. And we've got to unite with our 72 vir—. Pardon me, I've got something in my throat. Virulent fellow supporters. We need to reunite with them, before the match.