Stephen Colbert augments his long-running TV show segment

An all-new feature on ColbertNation.com connects you with U.S. representatives, allowing you to ask them to appear on the Colbert Report show on Comedy Central, and thus be "Better Known" by Stephen Colbert and his "Colbert Nation" of viewers.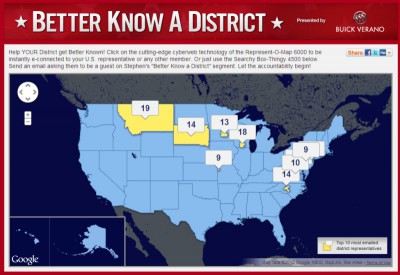 And who wouldn't want their own district to get "Better Known"? To use the feature, go to the new web page at ColbertNation.com and click on what the site refers to as the "cutting-edge cyberweb technology" of Colbert's "Represent-O-Map 6000," and you will be instantly e-connected to your U.S. representative.
Or you may use the "Searchy Box-Thingy 4500" also conveniently provided. Thus proving once again, Stephen Colbert is nothing if not cutting edge.
The new website page makes it easy to send an email asking your representative to be a guest on Stephen's "Better Know a District" segment. As they say on the page, "Let the accountability begin!"
There is also an archive providing access to the 104 segments Colbert has already taped with representatives in the past. If you've never seen the show, you should check out a few of these, they're priceless.
ColbertNation.com also presents past full episodes of the two-time Emmy award-winning show, a show we here at the Humor Times consider not only one of the two best political humor shows ever (the other being the show that precedes it on Comedy Central, Jon Stewart's The Daily Show), but one of the best TV shows of any type, ever. Yeah, that good.
Stephen Colbert began as one of the correspondents on The Daily Show, which first aired on July 21, 1996, and was hosted by Craig Kilborn until December 1998. Jon Stewart took over as host in January 1999, making the show more strongly focused on politics and the national media, in contrast with the pop culture focus during Kilborn's tenure. It is currently the longest running program on Comedy Central, and has won sixteen Emmy Awards.
The Colbert Report spun off in 2005, and satirizes conservative, personality-driven political pundit programs, particularly Fox News' The O'Reilly Factor. Colbert's character, described by Stephen himself as a "well-intentioned, poorly informed, high-status idiot," is a caricature of televised political pundits. The comedian is quite effective at parodying these ubiquitous, self-important characters, with hilarious effect.