Wherein our intrepid talk radio show host interviews his deceased mother Maggie Duncan, via heavenly hologram.
ANNOUNCER
Live from under a rock in your backyard, it's The Jerry Duncan Show.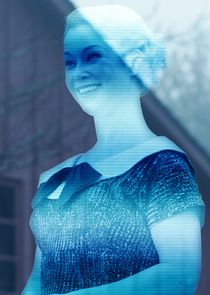 JERRY
Good morning listeners nationwide. Is it a good morning? I doubt it. Live from heaven, my guest is my deceased mother Maggie Duncan, via heavenly hologram.
MAGGIE DUNCAN
Hello my comical son. What else can I say? You're not a doctor or lawyer.
JERRY
May I rest in peace. I'd like to enjoy being an orphan for once in my life.
MAGGIE
Oh. I'm not so bad. You exaggerate.
JERRY
Exaggerate?! In fifth grade, you poured a cup of Tide down my mouth when I brought home my report card. I should have reported you to the authorities.
MAGGIE
You didn't have one grade above a D. Not one! Hey, I hired a private tutor.
JERRY
And did my grades improve?
MAGGIE
Not really. They were like a submarine, below C-level.
JERRY
I remember that old man. Wasn't his name Bix?
MAGGIE
That's the guy. Joe Bix.
JERRY
Bix was so hunchback that he looked up to tie his shoes.
MAGGIE
What did you expect, George Clooney? You're so sarcastic.
JERRY
I'm not always sarcastic. Sometimes I'm sleeping.
MAGGIE
Jerry. I have exciting news.
JERRY
You're abandoning me?
MAGGIE
Stop it. I'm your mother. Here's the scoop. I'm dating.
JERRY
How much more trauma can a 40 year old man endure in a lifetime?
MAGGIE
My boyfriend is sitting next to me. And you know him.
JERRY
He must be nuts.
MAGGIE
Bingo! It's Curly from The Three Stooges.
CURLY HOWARD
Nyuk, nyuk, nyuk. I'm a victim of soicumstance.
MAGGIE
(upset) What's the big idea? I thought we were an item.
CURLY
Sorry, Toots.
JERRY
Welcome to the show, Curly.
CURLY
Enchanted.
JERRY
Enraptured.
CURLY
Embalmed.
JERRY
Is it true The Three Stooges made 190 shorts?
CURLY
We did. Had a contract with Columbia Pictures for decades.
MAGGIE
What a bunch of cheapskates. They never got a raise.
CURLY
(upset) Rrrowf! Rrrowf!
JERRY
Calm down, boy. I'll give you a treat.
CURLY
Poifect.
JERRY
How did you two meet? I dare ask.
MAGGIE
Moe fixed us up. I got to know him when I was doing standup at Heaven's Gate Comedy Club. He always said I was a pretty smart ignoramus.
CURLY
We hit it off. Hotchachachaa.
MAGGIE
Curly took me flying. It didn't start off great. We both got new angel wings and crashed into each other.
CURLY
Yeah. I ended up in the hospital. It was a good thing though. The doctor discovered I had a vacancy of the cranium.
MAGGIE
The other day Curly and I were having coffee with Nobel Prize winner Albert Einstein. Crazy Albert went sideways when Curly said his hair was so nappy, he should cut it with a weed wacker.
JERRY
Speaking of Einstein. Do you know what kind of bagels can fly?
MAGGIE
Get out of here, you idiot.
JERRY
Seriously. Plain bagels.
CURLY
Nyuk, nyuk, nyuk.
JERRY
See you tomorrow.
Check out my weekly series A Bit of Biden on Instagram @abitofbiden
(c) The Jerry Duncan Show
(c) Dean B. Kaner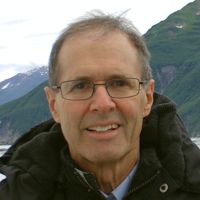 Latest posts by Dean Kaner
(see all)