Wherein our intrepid talk radio show host interviews his late mother.
ANNOUNCER
Live from under a rock in your backyard, it's The Jerry Duncan Show.
JERRY DUNCAN
Good morning listeners nationwide. Is it a good morning? We'll soon find out. Today on the show my guest is my late mother Maggie Duncan. You heard me right.
MAGGIE DUNCAN
I love you, Jerry. Tell me you love me back.
JERRY
No time for small talk. I'm chillin after my trip to Boston.
MAGGIE
I thought a vacation would change you.
JERRY
It did. I have more anxiety.
MAGGIE
Why my favorite son?
JERRY
I'm your only child.
MAGGIE
You're right. Thank goodness.
JERRY
Get this. The plane didn't take off until midnight. In addition to being tired, I was cranky. Especially after some fat man fell on top of me walking down the four foot aisle. The guy had more rolls than a bakery.
MAGGIE
Oh my. Are you okay?
JERRY
Other than two cracked ribs. But that's not all that happened. A woman in front of me had baked beans for dinner.
MAGGIE
How do you know?
JERRY
Because all of us were gagging and holding our noses. I heard a boy tell his mother there was a skunk on the plane, not realizing it was her. The flight attendant had to give the kid oxygen.
MAGGIE
How awful. Especially since we have a gas shortage. So tell me about Boston.
JERRY
Okay. The first day I walked Freedom Trail.
MAGGIE
That's what your father and I did on our honeymoon. So historical. We went to the grave site of Paul Revere. He had 16 children, Jerry.
JERRY
The British weren't the only ones coming.
MAGGIE
Stop it. Always with the jokes.
MAGGIE
Did you go to Fenway Park?
JERRY
Yep. Boston lived up to it's name Beantown. I got hit in the head by a foul ball. The bad news, I was delirious. The good news, I wasn't thinking about my cracked ribs.
MAGGIE
Who came to your aid?
JERRY
The team mascot Tessie the Green Monster. I was so out of my mind that I asked her out. But it ended quickly when her boyfriend Wally the Green Monster threatened my life.
MAGGIE
Seems every business in Boston has a mascot. Even TSA at Logan Airport has one. His name is Frisky.
JERRY
(sarcastic) Great. Nothing like getting goosed by a puppet.
MAGGIE
Airports are dangerous. I heard today that a woman fainted and was slumped over onto the luggage carousel. Thank goodness she slowly came around.
JERRY
It wouldn't hurt for you to do a few rounds on the carousel. Might unclog your brain.
MAGGIE
Sounds like you're miserable.
JERRY
Not at all. The last day, I spent a happy afternoon at the New England Aquarium. Love those penguins.
MAGGIE
You love penguins more than me.
JERRY
There's no comparison. You have a better backstroke.
MAGGIE
That makes me feel good. I love you, Jerry.
JERRY
Slow down. I'm not ready for that kind of commitment. You're going way too fast.
MAGGIE
It was good you visited Boston.
JERRY
Yeah. But on my flight home, a 5th grader from Alabama and a 5th grader from Boston got into a fight. It was unbelievable. Calling each other names and trying to beat the hell out of each other.
MAGGIE
Who won?
JERRY
The 5th grader from Alabama, because he was 18 years old.
JERRY
My mother Maggie Duncan. See you tomorrow.
The Jerry Duncan Show
(c) Dean B. Kaner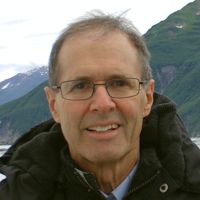 Latest posts by Dean Kaner
(see all)