When I purchased my copy of "Fifty Shades of Grey," the first book in the Fifty Shades trilogy, the cashier asked if I wanted a receipt. "Absolutely," I told her. "I'm reading the book for review, so I'll be reimbursed."
"I want YOUR job," she said. laughing "This book is hot!"
It sure is, both in the sense that it's full of steamy sex and that it's a runaway bestseller. Penned by British first-time author E. L. James, who released it as an e-book, the trilogy sold so well that Vintage Books published a print edition, which became an instant best seller. The library system where I work owns 92 copies of the first book alone. Last time I checked the reserve list, there were 267 women waiting to read it.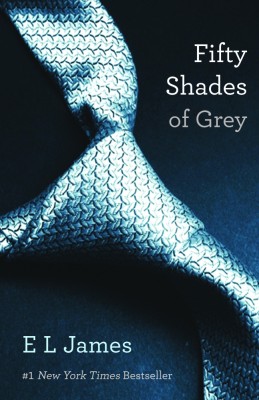 The publisher calls this smut-drenched novel an "erotic romance." If you ask me, erotica is just smut that's putting on airs. Let's call this book what it is. Porn.
Porn you can get at the local public library is something new. So is porn for women. (Men aren't reading this book.) The "nice girls don't" stigma attached to women reading smut has finally vanished. Women of all ages, educational levels and income brackets are buying this book, or unashamedly handing over their library cards and checking it out. Not to mention recommending it to their friends.
I cracked it open, curious, and was soon absorbed. Is the writing any good? Absolutely not. It's romance writing at its worst, teaming with clichés, stereotypes and purple prose. But James is a good enough storyteller to grab your interest and keep the story moving. "He rises and strolls toward me, an amused appraising smile on his beautiful sculptured lips" is, undeniably, a very bad sentence. But you'll probably be too busy turning pages to care.
"Fifty Shades" starts out like a garden-variety romance. College student Anastasia Steele (who is, implausibly, a virgin) is both attracted to and repelled by drop-dead gorgeous twenty-seven year old billionaire Christian Grey after she interviews him for the school paper. They have nothing in common, yet become obsessed with each other. You think you know exactly where this is going. But then you hit the first sex scene. Not only is it extremely explicit, but it goes on for twelve pages. Page after page of "My nipples bear the delicious brunt of his deft fingers and lips, setting alight every single nerve ending, so that my whole body sings with sweet agony." (And that's one of the tamer sentences.)
It soon becomes clear that this particular romance isn't as much about whether these two will overcome all obstacles to end up in each others arms, but whether Anastasia will agree to become Christian's sadomasochistic sex slave, under the terms of a ten page contract (which is set forth in its entirety, starting on page 165.) Much of the book is devoted to negotiating this contract. Is whipping okay? How about bondage? Being suspended from the ceiling, Ana tells Christian, is definitely a deal-breaker. As they wrangle over clauses, Ana and Christian enjoy page after page of hot vanilla sex, as well as sexy billionaire pass times like commuting to Christian's penthouse via helicopter and dining together in upscale restaurants. (After which they go back to his place, where he ties her hands with a very special necktie, rips her panties off and they go at it.)
Then it's back to more contract negotiation.
Is "Fifty Shades" fun to read? Sure. It's also absolutely ridiculous. And completely implausible. She's about to graduate from college, and she's still a virgin? She comes like gangbusters — many times — the first time she has sex? And after an impressively athletic all-out first-time boinking session, she doesn't even get a urinary infection?
This is fantasyland for sure.
Will "Shades of Grey" turn YOU on? If the sentence "My breasts swell, and my nipples harden under his steady gaze." intrigues you, I'd encourage you to pick up a copy. But I'll also warn you that when the whipping starts, you may decide to bid farewell to Grey and Ana, and watch "Downton Abbey" instead.
A librarian friend of mine who is a porn aficionado wasn't impressed. "It's nothing special," she shrugged. "I could definitely put it down." But women new to porn are flocking to "Fifty Shades."
Why is "romantic erotica" suddenly taking off? We can thank the internet. In the pre-digital age, if James had submitted this weird mix of romance, explicit sadomasochistic sex and contract negotiation to a publisher, would they have touched it? Not a chance. By releasing it as an e-book, she could bypass the gatekeepers, go right to her audience (women) and give us what we want. (Hot spicy sex!)
This is a development that brings new meaning to the phrase "sisters are doing it for themselves."
The only real surprise is that the first novel to bring porn to ordinary women in a big way doesn't just contain really explicit sex, but really explicit sadomasochistic sex. I don't think anyone saw that coming.
Will Anastasia submit to a lifetime of flogging in Christian's "red room of pain?" Why on earth would she? Well he's rich and accomplished and handsome and hot. But he's also the kind of dude who shows you his dungeon on the first date. Even Ana, besotted, recognizes that Christian is bad boyfriend material. He's a stalker and a control freak who seethes with jealous rage if she so much as mentions another man. But he can pilot a helicopter! And play melancholy songs on the piano! And, after beating her, he's quick to tenderly soothe her aching tushie with baby oil. By the end of the book, when finally Ana invites Christian to seriously punish her, it's clear that these two are made for each other. (Although my inner feminist couldn't help but think: this is a happy ending?)
Am I hooked? Do I need to know whether Ana will end up suspended from the ceiling? Or what's up with those weird scars on Christian's chest? Am I going to read "Fifty Shades Darker," the next book in the trilogy? I won't buy it. But I just might put it on reserve at the library.
If I do, I'll be number 157 on the waiting list.
This essay first appeared on www.womensvoicesforchange.org.
---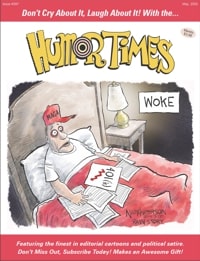 Please SHARE this content and our site! We want to hear from you — leave a comment!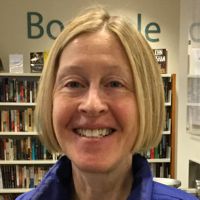 Latest posts by Roz Warren
(see all)