Seen & Heard on the Web: KFC takes advantage of the Chick-fil-A controversy: 'We love the gays!'
Colonel Sanders is back with a message for Chick-fil-A and chicken lovers that is totally honest and not at all panderous to gay folks.
The video is from Funny or Die:
KFC Loves Gays with John Goodman from John Goodman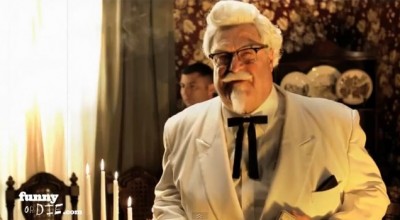 The Huffington Post reported on the plummeting of Chick-fil-A's approval ratings since they "came out" publicly with an anti-gay marriage stance. Although initially, there was a big show of support for the chain restaurant, and it got some high-profile support by way of Mike Huckabee, Rick Santorum, Sarah Palin and other conservative lawmakers, among their longtime customers, it's a much different story.
According to Huffington:
Polling organization YouGov found that the Atlanta-based chain's brand approval ratings have plummeted in the wake of Chick-fil-A President Dan Cathy's controversial remarks earlier this month. YouGov also reports that the company's overall consumer brand health among fast food eaters has dropped to its lowest levels since mid-August 2010 in the wake of the media firestorm.