Seen & Heard on the Web: KFC takes advantage of the Chick-fil-A controversy: 'We love the gays!'
Colonel Sanders is back with a message for Chick-fil-A and chicken lovers that is totally honest and not at all panderous to gay folks.
The video is from Funny or Die: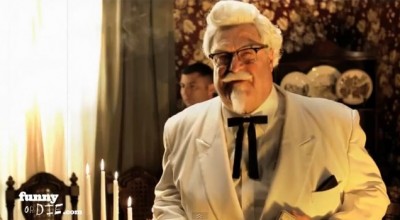 The Huffington Post reported on the plummeting of Chick-fil-A's approval ratings since they "came out" publicly with an anti-gay marriage stance. Although initially, there was a big show of support for the chain restaurant, and it got some high-profile support by way of Mike Huckabee, Rick Santorum, Sarah Palin and other conservative lawmakers, among their longtime customers, it's a much different story.
According to Huffington:
Polling organization YouGov found that the Atlanta-based chain's brand approval ratings have plummeted in the wake of Chick-fil-A President Dan Cathy's controversial remarks earlier this month. YouGov also reports that the company's overall consumer brand health among fast food eaters has dropped to its lowest levels since mid-August 2010 in the wake of the media firestorm.
The following two tabs change content below.

The
Humor Times
is the "World's funniest news source!" Sure, we like to inform our visitors, but in a playful sort of way. We believe political satire is one of the best ways to help folks let down their defenses and see things in a new light, as well as to help bring haughty leaders back down to earth. Plus, it's just plain fun! The
Humor Times magazine
(delivered to your door 12x/year) is a great way to enjoy this brand of humor, it makes a wonderful gift, and
SUBSCRIPTIONS
are very affordable!

Latest posts by Humor Times (see all)