Van Jones calls Obama to task over Keystone XL pipeline
Former Obama administration green jobs adviser Van Jones came out with very strong words on CNN against the Keystone XL pipeline and President Obama's anticipated approval of it, and destroyed the myths being pushed to support it.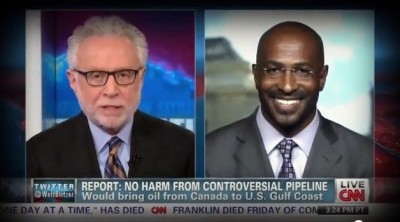 Watch the video here and share it.
Van Jones deftly debunks the three main selling points proponents (mostly industry flacks and their partners in the media) make for the pipeline.
Mr. Jones is the first prominent former Obama official to oppose the pipeline so strongly. He helped set environmental policy in the Obama White House, and this shows why the administration should never have let him go.
As Peter Rugh of Occupy.com put it:
Climate scientists have warned that the volume of greenhouse gases released by the pipeline could push the planet over a climate tipping point. Proponents of the [Keystone XL] pipeline — which would pump 900,0000 barrels a day of bitumen crude from Alberta's boreal forests to refineries along the Gulf of Mexico — promise that the economic benefits far out weigh whatever environmental damage ensues. Touting jobs numbers that have long been debunked, a large portion of American labor leadership is still providing working-class cover for the project's corporate backers.
Even Canadian unions, which stand to gain jobs from the project, are against it.
"We're diametrically opposed to the construction of it," said David Coles, president of the Communications, Energy and Paperworkers Union of Canada (CEP), which represents 35,000 Canadian oil and gas workers, including thousands laboring in the country's tar sands. "The Keystone XL is not good for the economy, it's not good for the environment, it violates all kinds of First Nations rights."
The following two tabs change content below.

The
Humor Times
is the "World's funniest news source!" Sure, we like to inform our visitors, but in a playful sort of way. We believe political satire is one of the best ways to help folks let down their defenses and see things in a new light, as well as to help bring haughty leaders back down to earth. Plus, it's just plain fun! The
Humor Times magazine
(delivered to your door 12x/year) is a great way to enjoy this brand of humor, it makes a wonderful gift, and
SUBSCRIPTIONS
are very affordable!

Latest posts by Humor Times (see all)