Call it a moustache or mustache, yours could be a champion
Kristofer Malmsteen may sound like a singer in an experimental folk band, however, he is anything but. A taxi driver and father of twelve from Varnberg, Sweden, Malmsteen won a national contest for having a superb moustache without ever trying to make a statement. He was just too busy to shave.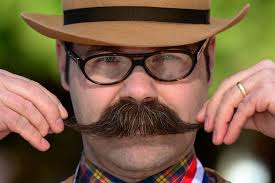 Need some facial hair-spiration for Movember? Well, you're in luck. Step forward, Mr. Malmsteen,  the 2014 World Moustache Champion.
An annual competition organized by The Handlebar Club, the moustache maintenance colossus, this year's facial face-off took place on Oct. 25 in Portland, Oregon, interestingly the home to the hairiest women in the US. Attracting close to 300 contestants, the categories included "The Tom Selleck" and The Al Pacino inspired "Serpico Segment," amongst other captivating contests.
Prior to picking up the award, The Washington Post reported that Malmsteen spent eight consecutive hours "fluffing" his tasche with his wife's hairdryer. The fluffing paid off — with Malmsteen scooping the first place prize; 24 hours in the company of Danny Trejo, a man with a magnificent moustache.
Latest posts by John Glynn
(see all)