Bloated subtitles that over-promise and aggrandize the subject can get a bit annoying
I appreciate that nonfiction publishers need to get more people out there buying books. But using bloated subtitles that over-promise and aggrandize the subject can get a bit annoying. Here are some recent examples: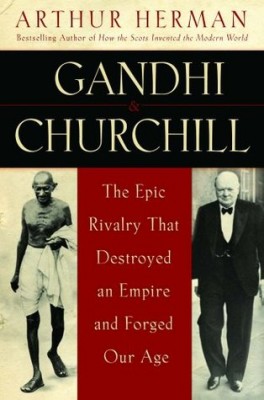 Gandhi & Churchill: The Epic Rivalry That Destroyed an Empire and Forged Our Age (by Arthur Herman)
The Swerve: How the World Became Modern (by Stephen Greenblatt)
Railroaded: The Transcontinentals and The Making of Modern America (by Richard White)
The Island at the Center of the World: The Epic Story of Dutch Manhattan & The Forgotten Colony That Shaped America (by Russell Shorto)
The River of Doubt: Theodore Roosevelt's Darkest Journey (by Candice Millard)
Destiny of the Republic: A Tale of Madness, Mayhem and the Murder of a President (by Candice Millard)
Frankly, for a change I'd appreciate the publishing industry using subtitles that under promise and deflate the subject. Here are some titles I'd like to see, with their charmingly unassuming subtitles:
Gandhi & Churchill: The Epic Clothing Rivalry That Destroyed the Bowler Industry and Forged New Beginnings for the Sandal Trade
Xanthippe & Yosadhara: How If Socrates' Wife Attended School with The Buddha's Wife, They Would Have Sat Near Each Other In the Back of the Room
Charles Lindbergh & Lee Harvey Oswald: How Two Men Who Never Met Embarrassed Their Friends, Who Also Never Met
The War of 1812: How, While Battle Raged, Dolly Madison Saved the White House Silver for the Next First Lady
The Bathtub of Doubt: William Howard Taft's Narrow Escape from a Humiliating Night in Chilly Water
A Man, A Plan, A Canal, Panama: How de Lesseps Failure to Build the Panama Canal Led to U.S.-Supported Revolution in Panama, Which Seemed Merely a Problem of P.R. for T.R., But He Didn't Get Re-Elected in 1912 So Who Knows?
The following two tabs change content below.

Howard Zaharoff
Howard Zaharoff reads (a lot), writes (mostly humor), teaches (occasionally) and practices law (doesn't everyone?). He is the author of "Stump Your Lawyer!" (Chronicle 2007), and his work has appeared in The Boston Globe, Wall Street Journal, Amazing Stories, Computerworld, The Journal of Irreproducible Results, The Annals of Improbable Research and the books Growing Up Jewish (Penguin 1987) and Sex As a Heap of Malfunctioning Rubble (and Further Improbabilities) (Workman 1993), among other places.

Latest posts by Howard Zaharoff (see all)