An interview with Justin Renteria
My connection with New York City's still influential Village Voice stems from several things. We lived in Greenwich Village for some 14 years, and a high school chum of mine, Pulitzer Prize winner Jules Feiffer, was their featured cartoonist for years too. But times change, we all move on. And as I discovered on a recent visit to The Big Bagel, the work of a very intriguing artist, Justin Renteria, caught my eye in one of their current issues.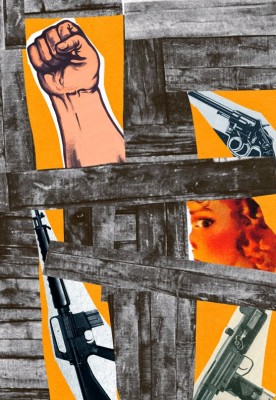 Now living in Aurora, Colorado, this freelance illustrator admits that being so aptly described is a sort of 'low point' for him, as opposed to being regularly syndicated. He said to me, "The lows come every few weeks when the phone doesn't ring, and you wonder if anyone will ever commission you for a an illustration ever again."
The 'highs' of course come when you're able to see your work in magazines and newspapers. Among the many other publications that have used Justin Renteria's work are: (according to his website) The New York Times, Los Angeles Times, The American Lawyer, Wall Street Journal, Washington Post, University of Toronto, among others. Justin mentioned that, "Maybe in 50 or 100 years from now, someone will happen across one of them in some archive and really like it and be inspired to make their own art."
Justin Renteria credits other artists for keeping his wellsprings full. "I'm very inspired by others, not only artists working today but especially those from earlier times. So unless all art disappears one day, I think the well will always be there." He added the word, "Hopefully."
It turns out that what was "always there" for him were his parents, "his biggest fans," though "they were doubtful that it was a wise career choice, and with good reason"(he adds). He always was the 'class artist,' And one insightful teacher, Ms. Whitford (now Mrs. Adams), was, "instrumental is helping me get to art school and seeing art for me as career."
He relishes the thought that Mrs. Adams must be proud of him, whatever his standing in the art world. But he jestingly says that some other teachers might say of him, "Wow, he didn't end up in jail?"
As one of today's young talents, Justin Renteria is very positive about the Internet. He thinks "it's a great tool for getting your work out there. I'd say every artist should have a website that shows examples of work (that was how I could enjoy even more of his illustrations) and allows fans to get in touch with you and maybe even buy some of your art. You can even," he emphasized, "just self-publish on your site until you're hired."
Addressing the advisability of pursuing art as a career, Justin is hard-headed in appraising it. He doesn't think, "any arts profession is one you choose to make money. But, if it's what you're passionate about, and you don't mind stressing about rent and bills every now and then, welcome aboard."
Discussing his youthful cartoonist idols, he ranks at the top the work of Bill Watterson with his brilliant "Calvin and Hobbes." Justin mentioned some current favorites like Jerry Scott and Jim Borgman ("Zits") and Brian Crane ("Pickles"), but Watterson, he admits, "tops them all." If he could go back in time to conjure a heart-to-heart with some of the great old-timers, he feels it would be "most interesting to speak with any of the old Mad Magazine staff, artists like Bill Elder, Jack Davis or any of the other usual gang of idiots."
I've asked this question before – "into whose skin would you jump if you couldn't be you?" – and this is the first time an artist says not just a person, but an entire decade. "It would have been cool to have been born in the 1930's. Imagine growing up watching Bugs Bunny in the movie theaters and having a chance to see the birth of rock and roll."
Working out of and in Colorado, Justin Renteria still finds time to do some reading and those he'd select if communication with the rest of the country was cut off, include, "Fight Club by Chuck Palahniuk, White Noise by Don Delillo, 1984 by George Orwell, Watchmen by David Gibbons and Alan Moore and a collection of Kurt Vonnegut novels and short stories, including Cat's Cradle and Breakfast of Champions."
Speaking of novels, we took up the subject of the graphic ones. Justin said in his youth he "didn't have the time or money to collect each issue of the ones I loved." But now, he says, he can get the collections he wants. "I missed out when Watchman was first published in single issue form, but now I can read it anytime in the graphic novels. I've also loved reading the much more personal work like Art Spiegelman's Maus, Marjane Satrapi's Persopolis and Charles Burns' Black Hole. I think it's been helpful to cartoonists for getting their work to a broader audience."
I like Justin Renteria's outlook on life, even at the end of it, when this father of a five-year-old said he'd tell the assembled crowd at his life's conclusion, "Life is short, unless you live to be 150 like me. But more likely, it's too short to worry about things like what kind of car you drive or how big or nice your house is. Spend as much time as you can with the people you love and care about. They're the only things that really matter."
You may be in the wilds of Colorado, Justin, but your positive, heart-warming philosophy reaches out, like your art, and touches all who encounter it.
Latest posts by Stanford Chandler
(see all)