Unbreakable Kimmy Schmidt – a television sitcom review by Gary Chew
Move over Seinfeld, Curb Your Enthusiasm and The Big Bang Theory. Make way for Unbreakable Kimmy Schmidt, created by Tina Fey and Robert Carlock. It's a 13-part series available on Netflix and nowhere else — yet.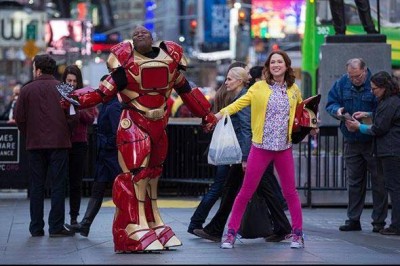 What would you think about watching a smart, zany sitcom that tells the story of a young woman who's just been rescued from a doomsday religious cult's underground bunker with three other females? All have been incarcerated in the subterranean prison controlled by a religious wacko known as Reverend Richard Gary Wayne Gary? (No relation, btw.) For me, this was plenty enough. But it gets even better.
Our heroine, Kimmy (Ellie Kemper/The Office) is a native of Indiana. She splits from her other Sisters of the Subterranean Cell, so to speak, and settles in modern day New York City to really get her life started and on track. Although being in that cellar for a considerable amount of time, Kimmy hasn't mentally buckled to the stress. She's strong, honest, curious, pretty and full of grace. She's really a good kid, but not so heavy with the IQ numbers. Let me just say Kimmy shows lots of promise.
Getting settled in the Big Apple requires Kimmy to first get an apartment. Her landlord is Lillian Kaushtupper (Carol Kane/Annie Hall; Carnal Knowledge; Laverne & Shirley). After a few bumps, turns out that Kimmy must share the flat with Titus Andromedon (Titus Burgess), a hefty gay black man who works as a Broadway-type, robot-clad singer in Times Square. (You may want to read the previous sentence once more.)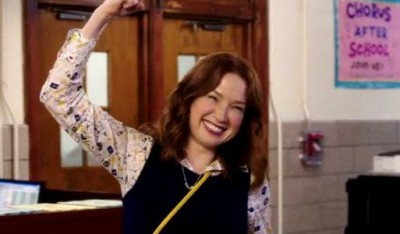 Even though Kimmy has been staked some money by one of her former cult mates, she must get a job. Fortuitously, Ms. Kaushtupper connects Kimmy with a wealthy Republican woman who's married and a former airline hostess with two stepchildren. Her name is Jacqueline Voorhees (award winning Jane Krakowski). Neurotic Jacqueline hires Kimmy to nanny the children in the family's swanky Manhattan digs.
Kimmy's charges are 15-year-old Xanthippe Voorhees (Dylan Gelula) who, it appears to me after two episodes, has already done everything during her short span of earthly time. (The pretty Xanthippe character, I think, could write an autobiography called "I AM a Teenage Bitch!") Xan's brother, 11-year-old Buckley (Tanner Flood) has his own special kind of personality. One scene in the second episode has Buckley beating Titus with a bat and golf club. Happily, Titus has on his robot suit, so no real damage is done.
I look forward to the eleven remaining episodes, especially when Tulsan Tim Blake Nelson ("Kill the Messenger") arrives on the set as Kimmy's stepfather from Indiana. Her Daddy's is called Randy. Promotional information about the show says that Randy is an incompetent state trooper. I'm laughing again — sorry.
At this juncture, Reverend Richard Gary Wayne Gary has only appeared once. But his back is turned, so I don't know who plays him. I'm hopeful Tina holds that as a surprise with a major personality in a cameo. Oh yes, Reverend Gary Wayne Gary is belittling Kimmy and her sister captives in that bunker scene: it gives more flavor to how things continue for Kimmy in the big city. The first two episodes telegraph for later segments that the bunker life, at the outset, will be a point of flashback reference for stuff happening "now" to Kimmy and her pals. I have big hopes for this new Tina Fey fun fest: Unbreakable Kimmy Schmidt.

Latest posts by Gary Chew
(see all)