An interview with editorial cartoonist Brian Gable
When you're due some money and you're informed that "the check's in the mail," there's always the possibility that the sender is indulging in a bit of prevarication and wishful thinking. But when you know that Brian Gable's brilliant editorial cartooning is invariably in the Toronto Globe and MAIL,  it's something you and countless others can, in fact, count on.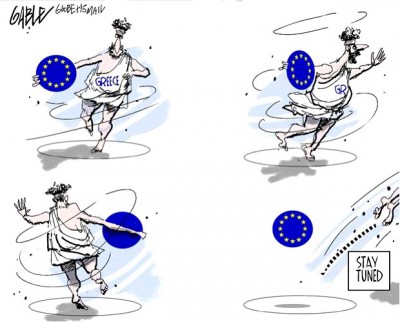 As part of the "Boomer Generation," Brian tells us Mad Magazine "had a powerful early influence on me. But when I got older and started looking at editorial cartoons too, I was very affected by the work of Jeff MacNelly, Pat Oliphant, Mike Peters, Don Wright and Ronald Searle."
"Speaking of Searle," he said, "I would love to have been able to talk to him about how he was able to come  from a Japanese prison camp after World War II and become one of the 20th century's greatest satirical artists."
While commenting on those artists whose work has stood the test of time, Brian Gable modestly said that he "didn't have a single cartoon which has stood up to that test." (His work is so good that he may well be wrong in that assessment.) "I agree with Berke Breathed, the creator of Bloom County," he added, "who said that humor has the shelf life of a cantaloupe."
Leaving that fruitful commentary aside, Brian allowed that "instant inspiration is a rare commodity" for him. "Most days involve sketching for hours before a carton idea emerges." Obviously it is greeted with great overall satisfaction by his editors and readers alike.
Referring to young would-be reporters and cartoonists, Gable remarked, "It would not be realistic to advise any 21-year old to pursue a career in traditional journalism at this time. Graphic novels [on the other hand] appear to be establishing credibility in the publishing world that few would have predicted ten years ago. It's likely that they will continue to become an increasingly integral part of the industry."
A brief pause followed, and then Brian Gable took off on the Internet. "Everyone is enthusiastic about the potential of it until the word monetize is mentioned. Then there appear to be few foolproof strategies on how to support oneself solely through digital means."
With all the dust being raised regarding statements by, for and about potential U.S. presidential candidates, we were eager to learn what difficulties he (in Canada) had encountered in his work. He was clear and concise: "The values associated with contemporary political correctness [in both countries] have become a growing factor in public discourse – for a satirist whose work reaches a broad sector of the public readership, it can provide for some very intense discussions."
His professional 'high' was when Gable was hired by The Globe and Mail, something for which both sides seem quite pleased. But his 'low' can come "just about any day when a cartoon appears with my signature and is a dud. Some days it can feel like the chance of doing a great cartoon is slim to nil, and those can be genuinely low days."
In recalling his childhood, he told us, "People were generally very supportive. My original plans for a career did not include cartooning. I did it entirely as a hobby or pastime, so no one was very concerned about my becoming a cartoonist – including me."
Other early memories include living in a city, but near the edge of new subdivision. "It was a perfect place for boys to grow up," he said. "My friend and I would free range in the nearby countryside, building forts and tree houses and generally spending our free time in total kid anarchy. It was great!"
And what would these youthful friends and adults who knew him them say if they met Brian Gable today? "I always knew he'd come to no good."
I found it intriguing that Gable chooses the books he'd take to that remote Yukon cabin for a lengthy stay for their "lovely subversive world views(s)." To wit: Gravity's Rainbow by Thomas  Pynchon, Mark Twain's Huckleberry Finn, and any of Donna Leon's Inspector Brunetti books (lovely subversive Italian world view) – and finally Robertson Davies' Deptford Trilogy, this one just because it tells a great story.
Finally, when all were said and done (at the age of 150 or so), he would sum up his life in the same thoughtful and generous way we might expect: "I was immensely fortunate to have been able to spend my life in a career that I loved."
Hollywood had its Clark Gable and Nathaniel Hawthorne a House of Seven Gables. But as long as the editorial pages of the Toronto Globe and Mail have their Brian Gable, we can rest easy and enjoy his warmth and talent.
Latest posts by Stanford Chandler
(see all)