Proponents say it'll make U.S. number one oil exporter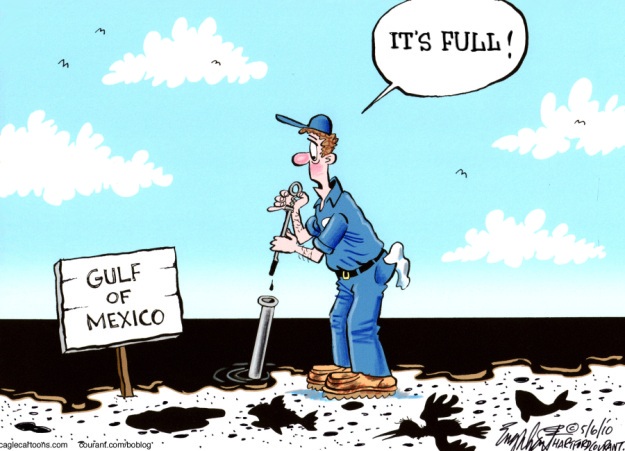 A Humor Times exclusive report
GULF OF MEXICO – "We've reached the end of our rope," said BP representative Keith Seilhan, "there's nothing that can be done to save the Gulf as a body of ocean water. So we're doing the logical thing." That "logical thing"? Use the Gulf as an international repository of oil. "We'd save it all for the US, but after all, we are capitalists, and we sell to the highest bidder!" he added.
The federal government is indicating it is on board with this new strategy. In a press conference today, President Obama said, "We reluctantly have come to agree that the only thing left to do is to make lemonade out of lemons. Or black tea out of tarballs. Or something. Anyway, the gulf is already full of oil, we might as well use it as what it has become, an oil reservoir."
Some argue that this will ruin the fishing and shrimp industry, but many fishermen and restaurants are looking at the bright side. "Haven't you ever heard of blackened shrimp? People love it! And our gumbo will be thicker than ever!" says the famous Broussard's restaurant chef/owner Gunter Preuss. "We're even looking at setting up an export business, as we expect demand for blackened, pre-oiled seafood to skyrocket."
Although the logic for this change seems unassailable, some are saying it is still too soon to give up on stopping the oil gusher. "We still haven't tried plugging it up with BP's huge wads of cash, for example," says conservation scientist Judy Haner. "And why not take a cue from the dike-plugging Dutch boy and get those CEOs to stick their pointing fingers of blame in the hole?"
The following two tabs change content below.

The Humor Times founder/publisher/editor/writer may wear a lot of hats, but he likes it that way. Still, his favorite job is writing fake news articles. He is also a musician and songwriter, who plays guitar, mandolin and harmonica, with
several CDs
to his credit.

Latest posts by James Israel (see all)