Steve Sack Cartoon Gallery
Click on any thumbnail in the Steve Sack Cartoon Gallery to enlarge, then you may browse through cartoons, run the slide show or return to gallery.
From Wikipedia:
Steve Sack (born 1953) is an American cartoonist who won a Pulitzer Prize. With Craig Macintosh he draws the cartoon activity panel Doodles and he is editorial cartoonist for the Minneapolis Star Tribune, where he started in 1981. Both Doodles and Sack's editorial cartoons are distributed by Creators Syndicate.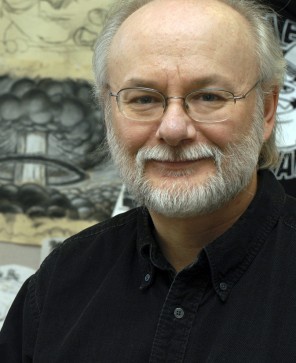 Sack was born in Saint Paul, Minnesota. His newspaper career began while attending the University of Minnesota, where he illustrated features and drew editorial cartoons for the school paper, The Minnesota Daily. Two years later, he was hired as staff cartoonist for The Journal Gazette in Fort Wayne, Indiana.
After three years, Sack returned to Minnesota to join the Star Tribune. He is featured online by Daryl Cagle, another editorial cartoonist, who says:
Steve Sack is a wonderful cartoonist. He draws … in a painterly, colorful style that is like no other cartoonist. I think of Steve as a 'stealth' cartoonist, because his drawing style is sweet, young and charming; but the sweet look is deceptive, Steve is actually one of the harshest cartoonists, skewering his political targets with little mercy.
Sack's interactive became the most popular thing ever on the Cagle website. It was introduced in 2000, and caused problems for the web servers because of the high volume of visitors. "The Haunted House returned" in 2005.
In his free time, Sack enjoys oil painting. He lives in the Twin Cities with his wife, Beth.
From the Minneapolis Star Tribune:
St. Paul native Steve Sack is the 2013 Pulitzer Prize winner for editorial cartooning. Judges noted Sack's "diverse collection of cartoons, using an original style and clever ideas to drive home his unmistakable point of view." They said Sack stood apart because of his "vivid, distinctive cartoons that used creative metaphors for high-impact results."
Upon winning the award, the ever-humble Sack downplayed his immense skill: "My job description is simple. I read the paper, crack a joke, and draw a picture," he told the newsroom. He's been the Star Tribune's editorial cartoonist since 1981 and was a Pulitzer finalist in 2004.
Steve Sack is a member of the Association of American Editorial Cartoonists. He's won numerous national honors for his work, including a Sigma Delta Chi Award (2003), National Headliner Award (2003), Scripps-National Journalism Award (2004) and the Berryman Award from the National Press Foundation (2006.)
He attended the University of Minnesota, where he illustrated features and drew editorial cartoons for the Minnesota Daily, the school's newspaper. He later served as staff cartoonist for the Journal-Gazette in Fort Wayne, Ind. Steve Sack now lives in Bloomington, Minn. His personal website is Steve Sack.
To see more of our extensive collection of professional cartoonists' work, visit our Political Cartoons sampler, our political Cartoon Galleries, non-political Single Panel Cartoons and our International Political Cartoons sampler. If you like to draw, you may want to submit a cartoon to our User-Created Amateur Cartoons page. If you'd like to try your hand at captioning cartoons, check our Cartoon Caption Contest.
Check out our Funny Videos gallery as well, our humor columns, and of course, our own fake news stories by various authors.
Enjoy, and please use the share buttons below to share with your friends, family and co-workers. Thank you!