Wherein our intrepid talk radio show host interviews former Vice President Dick Cheney.
ANNOUNCER
Live from under a rock in your backyard, it's The Jerry Duncan Show.
JERRY
Good morning listeners nationwide. Is it a good morning? We'll soon find out. Today on the show my guest is the former Vice President of the United States Dick Cheney. Welcome Mr. Vice President. I hear the old ticker working.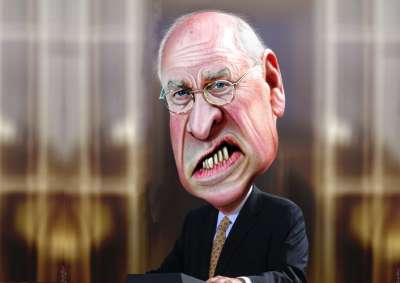 DICK CHENEY
Yes. An anonymous baboon donor gave me a new heart in 2006. By the way, I'm starved. Got any bananas?
JERRY
Hey, Veep. Why did the monkey like the banana?
CHENEY
I don't know.
JERRY
Because it had appeal.
CHENEY
Is this Pee-wee's Playhouse?
JERRY
Close, but no horseshoe. His guests are more intelligent.
CHENEY
I'm highly intelligent, Duncan. President Harry Truman and President Obama are my distant cousins.
JERRY
Don't forget cousin Satan. He's largely responsible for getting you life story on the big screen called Vice.
CHENEY
Glad you brought that up. I didn't like it. Made me look uglier than I really am.
JERRY
You're 78 years old. You were the 46th Vice President from 2001-2009. Eight years in office, not too shabby. Here's the bad news. You had a 13% approval rating when you left. And I heard you were so out of touch that you returned a donut because it had a hole in it.
CHENEY
I was told you tried to make an appointment with Dr. Pepper.
JERRY
Shut up, Darth Vader. You're so scary, you give Freddy Krueger nightmares.
CHENEY
Hold on. Let me tell you about my achievements, because it will make your head spin.
CHENEY
I was the White House Chief of Staff for President Gerald Ford, Secretary of Defense for President George H.W. Bush, CEO of Halliburton…
JERRY
Let me stop there. You were paid out $34 million when you left Halliburton to join George W. Bush's presidential campaign in 2000. They were trying to bribe you two if you won the election.
CHENEY
Greed is good. It's chicken soup for my soul and my soulmate Lynne. We've been married for 45 years.
JERRY
You married her to get out of the draft.
CHENEY
I wanted to serve so bad.
JERRY
Sure. Then you got five more deferments.
CHENEY
Someone had to guard the home front while our boys were in Nam.
JERRY
You were an early proponent of the Iraq War, even though there was no proof Saddam Hussein was involved in 9/11. You like war, Grinch.
CHENEY
I love war. There isn't one particular favorite.
JERRY
How do you prepare for battle?
CHENEY
Lynne and I sit in the living room in front of our PlayStation4. I wear a really cool helmet, hunting fatigues and combat boots. It's war heaven with Bravo Team. I get a hard on I'm so excited.
JERRY
From your wife?
CHENEY
From the game. Intense. Lots of incoming rounds. Rat-tat-tat. Bombs exploding everywhere. Boom, boom There's nothing like the rush of shooting down enemy aircraft and blowing up bridges, Duncan.
JERRY
Speaking of war. You violated the Geneva Convention by torturing enemy prisoners at Guantanamo Bay.
CHENEY
Nothing big. Just a little waterboarding in the kiddie pool.
CHENEY
So what? I tortured myself by agreeing to do your show. What's worse?
JERRY
Here's a good one. You shot your buddy Harry Whittington in the face while bird hunting. What a riot.
CHENEY
I mistook him for a quail. Biggest thing I ever bagged.
JERRY
You were warned before. (imitating Elmer Fudd) "Be vewy, vewy quiet when you're hunting I-wackies."
CHENEY
Thank goodness the buckshot was deflected by wads of cash or it could have been worse.
JERRY
That must of aged you beyond years.
CHENEY
Not really. I get a chuckle when I think about it.
JERRY
Is it true you knew Burger King when he was a prince?
CHENEY
We can discuss these things when you go hunting with me. Hee, hee.
JERRY
I would except your breath smells so bad that when you walk by a clock it says "Tic Tac."
JERRY
See you tomorrow everyone.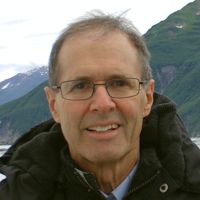 Latest posts by Dean Kaner
(see all)