George Clooney led protests at Sudan's Embassy in Washington D.C. Friday. He spent the week rubbing elbows with politicians, lobbyists and the president. After two days in Washington he couldn't wait to return to the relative depth and sincerity of Los Angeles.
CBS Sports enjoyed big ratings for the NCAA Tournament due to college basketball's popularity on Saturday. It's so different from the NBA. The players go all out for the entire game and referees have no idea how the game's going to come out before it's played.
Peyton Manning worked out with Denver Broncos wide receivers Friday as he shops teams. There was a dramatic scene in the locker room. In a true test of Christian charity, Tim Tebow was asked to lay his hands on Peyton Manning's neck and then pack his things.
Tiger Woods dropped out of the Doral WGC after the twelfth hole Sunday. Helicopter cams followed him as he drove away with golfer Webb Simpson. When NBC announced he was in an SUV with Simpson going up the freeway the police put out an APB for Tiger's ex-wife.
The Washington Post reports Osama bin Laden had ordered al-Qaeda to shoot down President Obama's plane so Joe Biden could become president. His reasoning was simple. He thought Joe Biden was unprepared to be president because he never lived in Indonesia.
President Obama savaged President Rutherford B. Hayes Friday for resisting the telephone. Actually he was the first president to appreciate the possibilities of the phone. You cannot imagine how much time he wasted trying to have telegraph sex with his intern.
Washington D.C. residents were sickened by a foul odor Friday due to hot weather. The smell was caused by insects which pollenated on early-ripening trees thinking the bark was rotting flesh. It's a trick by Republicans to remove them so that oil drilling can begin.
Tom Hanks narrated President Obama's campaign video released Friday. It accuses the GOP Congress of blocking the president's progressive measures. Republicans prefer gridlock because it gives people more time to sit in their cars and listen to Rush Limbaugh.
Rick Santorum campaigned in Illinois Friday and he repeated his vow to get rid of all Internet porn, hotel room porn and porn sold at video stores. People could be forced to go out of their homes and interact with each other in person. It could bring back the Disco Era.
President Obama revealed his NCAA bracket picks in an ESPN special along with his Final Four selections Thursday. It caused eyes to roll. Energy companies complained that it was just another example of the federal government picking the winners and losers.
Iran president Mahmoud Ahmadinejad was called to the Council of Mullahs Tuesday and rebuked. They want a new president. If the mullahs wants someone who can make Israel give up half of what they own, they should swap their nuclear program for Bernie Madoff.
Prime Minister David Cameron met with Wall Street chiefs Thursday. Talks focused on the need to remove barriers to trans-Atlantic capital flow. They want to take a half second off the one second it takes for cash to go from New York to London to the Bahamas.
The Discovery Channel aired a new documentary called Frozen Planet about animal life in Antarctica. It's perilous. Due to the warm winter, the penguin mating ritual of walking two hundred miles to seduce a mate has been reduced to insincere chit-chat in the hot tub.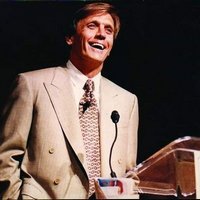 Latest posts by Argus Hamilton
(see all)