Bravo personality, Jeff Lewis, is feeling much better today after spending the better part of last night in a bathtub filled with hot water and Epsom salts to treat self-inflicted welts and bruises he received while renovating a dressing suite in a mansion located in the Brentwood neighborhood of Los Angeles.
Lewis, the star of two Bravo reality series–Flipping Out and Interior Therapy with Jeff Lewis–claims he is doing his best to try and come to grips with whether or not he was attacked by something or someone other worldly. Still shaken from the experience, Lewis refused to discuss the ordeal and instead left his assistant, Jenni Pulos to answer reporter's questions.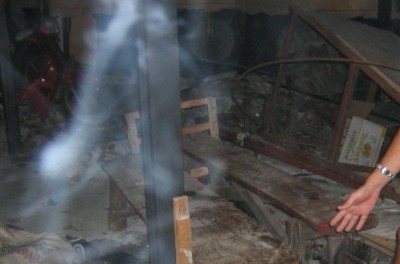 Pulos was more than happy to give her account of what happened the previous evening. She claims there is no doubt in her mind who attacked her boss.
"I truly believe the ghost of Joan Crawford briefly possessed Jeff and made him beat himself up–literally–for making fun of her," said Pulos.
"I warned Jeff to be careful because this particular house had been inhabited by Crawford during her "Mommy Dearest" days. I told him that strange events had been reported here after her death. But would he listen? Does he ever listen to me?"
Pulos claims Lewis, seizing yet another opportunity to belittle his faithful assistant, picked up a wire hanger that he had found on the floor of the dressing area and started chasing Jenni around the room, yelling "No wire hangers. I told you no wire hangers," imitating Joan Crawford.
"Next thing I know," says Pulos, "Jeff starts beating himself in the head and chest with the hanger. The cameraman and another crew member had to wrestle him to the ground and physically take the hanger from him. He was so beat up, we had to stop production and get him some help. We called a doctor friend who suggested the warm bath and Epsom salts."
Lewis is expected to make a full recovery physically, but is having some issues coming to grips mentally with what actually happened to him.
Meanwhile, Pulos was asked if the footage of the attack will air on an upcoming episode of Interior Therapy with Jeff Lewis, to which she replied, "No, we've already shot that season."
So what show will the footage likely air on? Unable to contain her glee, Pulos smiled, rubbed her hands together sinisterly, and gave the obvious answer. "Well, I think it would be great if we used it on next season's Flipping Out."
The following two tabs change content below.
P. Beckert's is one voice vying for frequency room at the top of the opinion dial. Angered and bewildered by many of today's events, P. Beckert uses humor as a tool to fight an onslaught of stupidity and ignorance that seems to permeate the airwaves and pollute the sensitivities of a once-brilliant nation. If you like her posts, become a follower and leave a comment. And don't forget to share on Facebook, Twitter and other social accounts! Syndicated from her
I Said Laugh, Dammit
blog.
Latest posts by P. Beckert (see all)