Bravo network has reportedly offered Ann Romney a chance to become the latest real housewife to appear in their wildly popular reality series Real Housewives.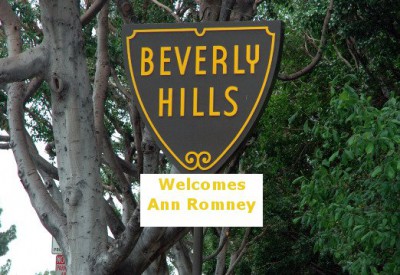 The offer comes on the heels of Mrs. Romney's tiff with Hilary Rosen regarding what constitutes a working woman. While Ann Romney claims she has worked hard raising five boys as a stay-at-home mom, some women voters believe there is a real disconnect when it comes to Romney understanding just how difficult it is for a majority of moms who work outside the home and raise a family.
"A few of us working moms at Bravo thought what a great idea it would be to give Ann Romney a chance to experience what it is really like to work outside the home," said Hannah Diverston, one of the people in charge of creating new shows for the reality network.
"The only problem we have now," said Diverston, "is figuring out which program to showcase Mrs. Romney on this upcoming season."
Diverston is referring to the fact that the Romneys own several homes around the country, and the mansion they own in La Jolla would qualify Mrs. Romney to join the cast on either The Real Housewives of Beverly Hills or The Real Housewives of Orange County.
"La Jolla, California is pretty much right smack dab in the middle of either setting, give or take a few miles," said Diverston.
"And then there is the election in November," she added.
"There's always a chance of Mitt Romney becoming our next President, if he can shore up the much needed women's vote," she said with a wink.
"In that case, we were thinking what a great opportunity to breathe life back into the The Real Housewives of DC," the only show in The Real Housewives series, says Diverston, that didn't get renewed for a second season.
Diverston claims that regardless of the outcome of the election in November, Bravo feels fortunate to have someone with as many options as Ann Romney join the series.
"In her case," said a jubilant Diverston, "I'm sure she'll create quite a stir no matter what cast she lands on."
The following two tabs change content below.
P. Beckert's is one voice vying for frequency room at the top of the opinion dial. Angered and bewildered by many of today's events, P. Beckert uses humor as a tool to fight an onslaught of stupidity and ignorance that seems to permeate the airwaves and pollute the sensitivities of a once-brilliant nation. If you like her posts, become a follower and leave a comment. And don't forget to share on Facebook, Twitter and other social accounts! Syndicated from her
I Said Laugh, Dammit
blog.
Latest posts by P. Beckert (see all)