A semi truck carrying thousands of gallons of beer overturned in Volusia County early Tuesday morning, spilling beer over the northbound lanes of I-95.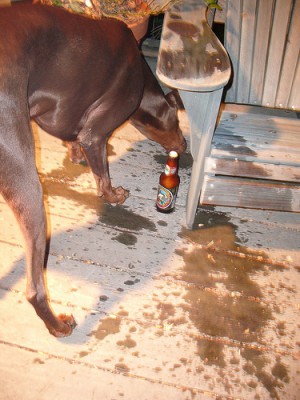 Police say hundreds of cases of bottled beer were lost in one of the worst beer truck spills in recent history.
The driver, Spuds Rodriguez from Miami, who suffered nothing more than a bruised ego, claims another semi forced him off the road, causing him to lose control of the truck carrying the valuable cargo. Here's what he had to say:
"Oh mi Dios."
Several people stopped to try and salvage what was left of the broken bottles of beer but many were so devastated, they could only stand around shaking their heads. At one point, Police had to protect Rodriguez from a growing angry mob.
One driver, who'd been training his dog Bongo, aka The Beer Hound, for years to fetch him his beer from a fridge was the only level-headed bystander around. Police did stop him but not before he was able to get quite a bit of the unbroken bottles safely to his Jeep.
Upon word of the spill, President Obama ordered all work to stop at the White House and asked for a moment of prayer. He also asked Congress to pass an emergency measure to make May 22nd a national day of mourning.
Flags around the country were expected to fly at half mast, and it is quite possible that Bongo will receive the Congressional Medal of Honor for his heroic effort in trying to save the few beer bottles that survived the horrific crash.
Latest posts by P. Beckert
(see all)