Romney backers suspicious of brownie ingredients
Organizers for the Obama camp are currently making plans to hold bake sales in cities all across America for the sole purpose of getting him re-elected.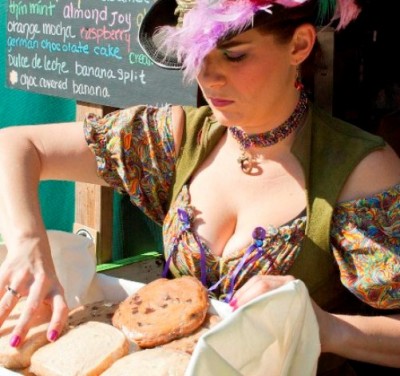 The bake sales will take place in locations throughout America on various dates, the first one to be held on July 7. Ads have already begun appearing in local newspapers in an effort to alert supporters of the sweet treats they can look forward to purchasing for this most worthy cause.
Dozens of volunteers have been charged with the task of collecting and disseminating some of the best recipes in the country to assure the bake sales are a huge success. In fact, Sally McWorter of Worthington, Ohio was chosen lead organizer due to the distinction of being the top-earning bake sale hostess of the year in the state of Ohio.
Speaking at a local PTA meeting after learning she was chosen as lead organizer, Sally assured all involved that "this is going to be the mother of all bake sales. Folks who are fans of everything from snickerdoodles to home-made fudge are going to be amazed at the variety of goodies (referencing Mitt Romney's word for chocolate donuts) we will have on sale at our tables."
McWorter claims she has access to some of the top prize-winning recipes in the United States. She has no doubt the sales will break records.
"We are going to rake in millions, regardless of the fact that few bake sales in history have ever taken in anything more than a couple hundred dollars at any one given time," she boasted.
Rumors swirling about the Romney camp are already pointing an accusatory finger at Obama's supporters calling them nothing more than drug dealers in aprons. They believe that if, in fact, millions are expected to flow to the Obama camp by simply holding community bake sales, there must be something illegal going on.
Many seem to agree with this assumption. Since brownies are expected to be the number one seller at the sales, most everyone has concluded that the treats are sure to contain a "special ingredient."
Plans are in place for Romney to run televised ads ahead of the bake sales warning folks ala "Woodstock" style not to eat the brownies. [For those too young to remember, one of the most famous lines at Woodstock was an announcement by a hippie known as Wavy Gravy warning concert goers to not take the brown acid.]*
The bake sale organizers are not denying the rumors and, in fact, are quick to point out that at some bake sales in states like California, Oregon and Colorado that have medical marijuana laws in place, they expect to make a killing off supporters who carry medical marijuana cards—hence, the million dollars in expected sales. It is rumored that buying one pot brownie could set you back as much as $30; $35 with nuts and frosting.
Meanwhile, Republicans say they aren't threatened in the least about the upcoming bake sales. Said Romney supporter, Sheldon Adelson, "Hell, I like sweets just as much as the next guy, but all that nickel and dime crap is for the birds. I'd rather just write a check."
*Of special note is the fact that the aforementioned hippie, Wavy Gravy actually shares the Romney name, having been born Hugh Nanton Romney. While W.G. Romney claims he is absolutely not related to Mitt Romney, it has been implied that unusual names like Willard Mitt Romney and Hugh Nanton Romney can only suggest that there is a familial connection, which, if true, could very well link Mitt Romney to one of the largest hippie communes in recent history. This related story is still in the development stage and will be reported on once all the facts are in.
Latest posts by P. Beckert
(see all)